This article is more than 1 year old
Happy news: Apple again extends fee waiver for online real time experiences
Sad news: Cupertino seems to think you won't be comfortable going out until at least the end of the year
COVID-19 vaccinations have been administered to hundreds of millions of people, but Apple seems to think that you'll be safest if you don't go out until at least the end of year.
The Register offers that analysis because Cupertino has extended – for the second time – its waiver of in-app-purchase fees for purveyors of "one-to-few and one-to-many realtime experiences" sold on its App Store.
Apple first waived the fees in mid-2020 and set December 31st, 2020, as the last day on which it would not take its customary 30 per cent cut of in-app purchases.
The iGiant later extended the waiver until 30 June, 2021.
And now the company has given developers another extension: January 1st, 2022, is the date fees will resume.
This is good news for developers, but maybe not for the rest of us because Apple's motivation is: "As the world continues to recover from the pandemic, we'd like to support the communities that are still providing digital services in place of in-person group events."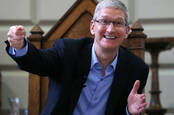 We seem to have materialized in a universe in which Barney the Purple Dinosaur is designing iPhones for Apple
READ MORE
Apple's update also reminds developers that apps like tutoring, medical consultations or fitness sessions don't have to use in-app purchases.
The subtext to both that reminder and the ongoing waiver could well be that Apple is totally not a monopolist that gouges developers and content-makers who seek to access its platforms, as some told US Congressional hearings this week. ®