Maybe high-speed internet is infrastructure after all, say US Republicans in proposal to spend $65bn over five years
Our plan is better than President Biden's, they claim, with few details
A cadre of Republican senators have proposed allocating $65bn to developing broadband infrastructure in America as part of a $568bn five-year spending plan.
Proposed by Senators Shelley Capito (R-WV), Roger Wicker (R-MS), Pat Toomey (R-PA), Mike Crapo (R-ID), and John Barrasso (R-WY)), the infrastructure framework has been touted as an alternative to Biden's $2tn spending plan, called the American Jobs Plan, which would allocate $100bn to increasing broadband availability.
Little detail was offered about how this spending package would work in practice, including where the money would come from and specific investment priorities. The two-page document [PDF] outlining the plan merely noted that funding would be distributed through the usual channels: the Federal Communications Commission (FCC) and the National Telecommunications and Information Administration (NTIA).
The senators also highlighted several vague "key principles" that the spending should adhere to including covering the entire cost of projects to avoid increasing debt, be distributed in partnership with state and local governments, and complement existing private sector spending.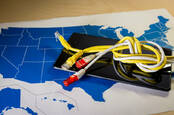 FCC urges Americans to run internet speed app to counter Big Cable's broadband data fudging
READ MORE
This is in stark contrast to the latest slew of UK government broadband funding, which has largely been based on clear and unambiguous objectives: providing gigabit-speed connections to 85 per cent of the country by 2025, be that through FTTP or 5G, or any other sufficiently-capable technology.
Indeed, the Biden administration has been fairly forthcoming about how it plans to allocate the funding. It has started from a perspective that high-speed internet is a fundamental utility, much like water and electricity, contrasting the proposed investment with the 1936 Rural Electrification Act.
Additionally, the American Jobs Plan aims to achieve full nationwide coverage, which would be delivered by a "future-proof" network (although it does not describe what technologies it intends to use, or speed targets the network should hit). Spending would be prioritised for nonprofits, co-operatives, and municipal providers, with some cash earmarked for tribal nations.
But does it have a chance of passing in its original form? Biden's planned infrastructure bill has faced stiff competition from Republicans, who have balked at the high ticket price as well as perception that certain elements (like job training) amount to social welfare spending.
Other Republican opposition has hinged on the definition of "infrastructure," with some members arguing broadband doesn't quite count, or isn't as worthy of funding as airports and roads.
Senator Marsha Blackburn (R-TN) described Biden's proposed internet infrastructure spending as "a waste of taxpayer dollars," while Russell Vought, who headed the Trump administration's Office of Management and Budget, said only "five to seven per cent" of the plan covers actual infrastructure.
In a statement, the senators expressed a hope that this proposal would be palatable to both sides of the aisle.
"There is a long and proven track record of Congress working on infrastructure in a bipartisan way," said Senator Wicker. "We are putting a good faith infrastructure plan on the table and are prepared to begin negotiations with President Biden and Congressional Democrats immediately. Congress has worked together in the past to rebuild America's infrastructure and can do so again."
"Republicans and Democrats agree that our infrastructure is in need of repair and expansion," added Senator Capito.
"We have an opportunity to develop bipartisan legislation that makes these long-term investments, while at the same time driving job creation and economic growth. But it's important that any infrastructure legislation have adequate funding levels and not be so large as to fail to launch, which means sticking to actual infrastructure."
And while the eventual infrastructure bill may not be as grand as Biden's proposal, it's clear both parties now see a benefit in getting America up to speed. ®