This article is more than 1 year old
Dam it: Beaver ate our internet, says tiny Canadian town of Tumbler Ridge
Then made a house out of it
The Canadian town of Tumbler Ridge – population 2,000 – had its internet-bearing cable chewed through in the early hours of Saturday.
Beavers were the culprits in this crime against rural information distribution as they got their sizable incisors into the 4.5-inch conduit connecting the town on the edge of the Rocky Mountains in British Columbia.
According to a local news outlet, service provider Telus said internet was down for about 900 customers in the community, presumably interrupting the nocturnal enjoyment of Due South or something.
Spokeswoman Liz Sauvé said in a statement that the incident was "very bizarre and uniquely Canadian" after workers discovered a beaver chewed through cabling near their dam at multiple points.
The semi-aquatic mammals, native to North America and Europe, are known for their dam building, and some have created structures more than 800m in width.
Sauvé said the beaver appears to have dug alongside the creek to reach the buried cable, which they succeeded in severing in several locations.
Photos from the site appeared to show the beavers used the material from the cabling to help create their dam-based dwellings.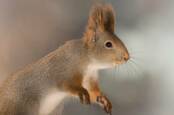 What's the biggest danger to the power grid? Hackers? Terrorists? Er, squirrels
READ MORE
Telus said it had restored online services by mid-afternoon on Sunday, although added that mobile signal might be unreliable while repairs continued.
It's not the first time rodents have taken the blame for patchy internet service. In 2017, rats were said to have caused "extensive damage" in South London by chewing through fibre, leaving customers without broadband. Sky and TalkTalk apologised for the loss of service to Tulse Hill, Balham, Brixton, Nine Elms, Streatham, Dulwich, Vauxhall, South Clapham, Forest Hill, and Battersea.
On the other side of the world, rodents caused a similar outage in Auckland, New Zealand. There, an unidentified creature chomped a 144-fibre strand cable operated by Chorus affecting the Massey suburb, as well as those in Swanson, Ranui, Westgate, and parts of West Harbour. ®