NASA's getting really good at this flying a helicopter on Mars thing
Ingenuity's third flight goes further, faster, as Perseverance snaps pics 'n' vid of 'copter zipping past
VIDEO NASA's Ingenuity Mars helicopter has flown flying faster and further than ever before - even when it was on Earth - and we even have video of Sunday's 80-second flight because the Perseverance Rover's Mastcam-Z had its eye on the drone's third flight.
The video showed the helicopter lift vertically to an altitude of five metres, cruise horizontally for 50m until it disappeared off screen, before reappearing and landed back where it started. The drone reached speeds of two metres per second, a brisk walking pace.
NASA is chuffed because testing a flight of this length is currently impossible at Earth-based JPL, because while the Martian atmosphere can be simulated in a vacuum chamber, it's not practical to build the facility to a scale capable of handling Ingenuity's full range.
The 'copter even sent home a mid-flight shots depicting tracks left by its parent Perseverance rover.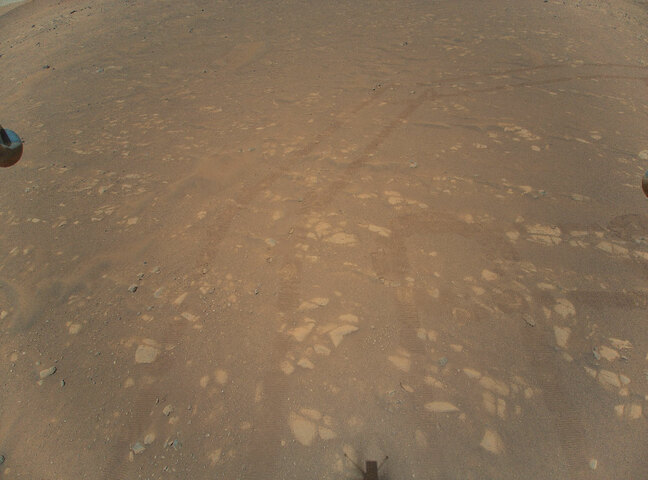 Image taken by NASA's Ingenuity helicopter while flying on Mars. Credits: NASA/JPL-Caltech.
Click to enlarge
The Perseverance rover also sent home a still of Ingenuity zipping by, this one snapped by the left Navigation Camera.
NASA said the Ingenuity team hopes to offer more photos. However, the flight computer and camera use the same resources. As more images are taken when greater distances are travelled, if the drone flies too fast it cannot track surface features.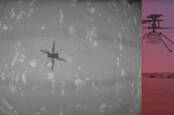 On a dusty red planet almost 290 million km away... NASA's Ingenuity Mars Helicopter flies
READ MORE
The miniature helicopter's previous flights were also historic. They demonstrated the ability for the helicopter to fly on Mars, a challenge in and of itself as Mars' atmosphere lacks the density that creates lift.
With each new liftoff creating a world record (on Mars), Ingenuity is expected to be big news again when it flies its fourth flight in a few days.
"Today's flight was what we planned for, and yet it was nothing short of amazing," said NASA program executive Dave Lavery. "With this flight, we are demonstrating critical capabilities that will enable the addition of an aerial dimension to future Mars missions." ®