From Swindon's insane five circles in a circle to the insurance-clause-generating 12-lane monster around the Arc de Triomphe, the roundabout has been easing congestion helping local governments across Europe save their pennies for decades.
However, it really seems to be grinding gears in northeastern Kentucky, where denizens have seen their first one installed by state highway agency, KYTC.
The mini-roundabout, at the intersection of Routes 60 & 801, was originally a four-way stop, with 4,000 cars passing through it every day.
Local TV station WKYT quoted traffic official Allen Blair as saying: "We're looking at a way to reduce the severity of crashes that this intersection has a history of."
Confused about whether they're supposed to filter in turn or yield to the left (in the US, you drive on the right-hand side), the new installation in the southeastern state became popular overnight after locals shared a video to YouTube of cars circling the new roundabout. Traffic officials went on to claim to the TV station that this had been provided by Walker Construction "to give drivers an idea of what not to do in a roundabout" – an explanation met with raised eyebrows by many.
The state highway mouthpieces unhelpfully explained: "Color differences between lanes, striping, and center island help it stand out visually, BUT it's all paved: The entire intersection can be driven over by larger vehicles."
Having a central island that the long, large vehicles can drive over will be important, because in addition to the locals, including the Dollar General store and nearby eatery Pop's BBQ (in favour of the circle, for those who care), there are also several campers and boat owners gunning it on the drive down to Cave Run Lake, or nearby Twin Knobs Campground/beach (quiet in the back), which has become even more popular since COVID lockdown and the beginning of the summer months. Locals groused darkly to reporters about "large RVs and boat trailers" and there is very obviously tension between station wagons and the boat-dragging trucks.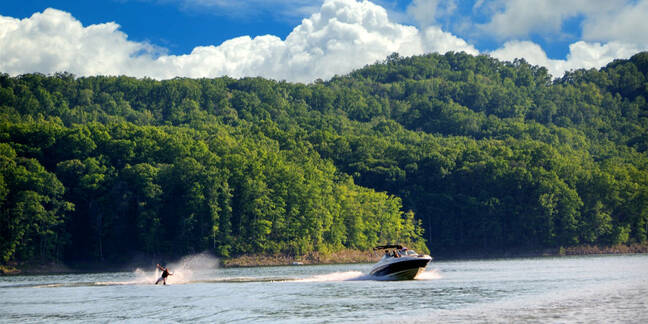 Boaters on Cave Run Lake in Kentucky, USA
Although they are growing in popularity (New York City got its first one in 2015), there are just 7,100 roundabouts in the US, according to a database maintained by transportation engineering analysts Kittelson & Associates. This is a terribly low roundabout density by European standards. The UK has 25,000, and France has over 30,000 (though expressed as a proportion of roundabouts per intersection, they are not that far apart.)
From Spain to northern England, suburbs are festooned with hundreds of pointless roundabouts that only serve to underline how much you hate the talk navigator chiming in "at the roundabout, take the fourth exit" when you had already sailed through the second or third, assuming "no change" meant you should continue straight, about 1km ago. You can already see the next three looming ahead. If ever there were a time to drive through that maize field, it would be now. And this, rural Kentucky, is what a monster truck is really for. ®