This article is more than 1 year old
Toyota buys Lyft's autonomous car group for $550m
Oh what a dealing
Toyota has announced that its brand-new Woven Planet Group will buy ride-share company Lyft's self-driving technology unit, "Level 5", for $550m.
The deal will see Lyft exit the increasingly crowded field of autonomous car contenders and focus on partnering with self-driving companies that want to use its app.
Initially, Toyota's Woven Planet subsidiary will pay US$200m for Lyft's Level 5 in the division's first ever major deal. The other US$350m will be paid over five years.
The deal is scheduled to close in Q3 2021 and will allow Lyft to hit its profitability target one quarter earlier than expected. The sale will negate $100m of Lyft's annual net operating costs and if all goes well, the company can report Q3 profit on an adjusted earnings basis before interest, taxes, depreciation and amortization.
"The deal will bring together world-class scientists and software engineers from Level 5, Woven Planet, and researchers from Toyota Research Institute, Inc. ("TRI") already working together with Woven Planet," said Toyota in a canned statement. "The resulting combined 'dream team' of approximately 1,200 will represent one of the most diverse, well-resourced and talented groups in this field."
As of April, Woven Planet Group boasted 760 employees. The acquisition also means the Woven Planet Group, which aspires to blend the best bits of Toyota and Silicon Valley, moves geographically beyond its Tokyo Headquarters into Palo Alto and London.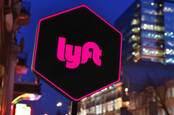 That's ride on time: Lyft, Uber to continue taxi app service in Cali after appeals court hits pause on AB5 brouhaha
READ MORE
Toyota's made ride-sharing company acquisitions in the past. The Japanese company has a stake in China's Didi Chuxing and Singapore-based Grab, and has previously invested in Uber. Toyota also isn't new to self-driving cars. In February the Japanese automaker teamed up with San Francisco-based startup Aurora to turn a fleet of Toyota Siennas into ride-sharing autonomous vehicles.
Last February, Toyota broke ground on a smart city project called "Woven City," at the base of Mount Fuji. The very small city forbids private vehicles in favour of Toyota e-Palettes, battery-electric vehicles that offer autonomous mobility as a service. ®