This article is more than 1 year old
VMware is 'a few months away' from M1 release of Fusion macOS desktop hypervisor
Test code is apparently blazingly fast, but for now Parallels has VMs on Apple silicon to itself
VMware is "a few months away" from releasing its macOS desktop hypervisor, Fusion, in a native version for Apple's new M1 silicon.
Product manager Michael Roy dropped the news on Twitter, after earlier saying news of the product was "in review" and would emerge this week. That mention of news under review turned out to refer to a blog post about the product.
Dunno where you got that info from, but we're still a few months away from putting something in users' hands.

I'll be posting an update about our progress next week (which is coming along very nicely, performance is blowing our minds...), but we still have a ways to go.

— Michael Roy (@mikeroySoft) April 23, 2021
VMware usually releases new versions of Fusion and its Windows sibling, Workstation, in the week before its VMworld conference. The event is scheduled for October 5th, 2021, five weeks later than its previous real-world incarnations.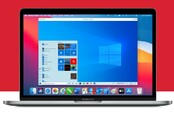 Windows comes to Apple M1 silicon as Parallels delivers native desktop hypervisor
READ MORE
The Register fancies Fusion for M1 may well emerge in mid-August.
To some, this may seem like rather a while to wait and for VMware to let competitor Parallels have the market to itself. However, VMware has in recent years added hybrid cloud and Kubernetes support to its desktop hypervisors, making them less of a direct competitor to Parallels and its most-discussed use case of running Windows on a Mac. Virtzilla's desktop hypervisors can do that comfortably, but also offer developers rather more tools to enjoy.
One other thing to contemplate. VMware is working on an Arm version of its flagship hypervisor, ESXi, and that product is currently officially supported on the Intel-powered Mac Mini because VMware likes the idea of customers being able to use a small, cheap, server, that can be bought at retailers, for some roles.
The latest Mac Mini is powered by Apple's M1. While Fusion and ESXi don't share much code, the prospect of ESXi-on-Arm ending up in an M1 Mac Mini could tug the Arm server market in interesting directions. ®