Sponsored How we build and manage data centres has undergone a massive transformation in recent years. But there is still much to do.
Automation and standardisation have taken much of the fear and loathing out of provisioning, deploying, and managing compute and storage. Together with the rise of DevOps and CI/CD on the software side of the house - again leveraging automation, standardisation and open standards - this has enabled organisations to be far more responsive to their users and customers.
Making the data centre more automated and predictable doesn't just deliver intangible benefits like peace of mind, increased agility or reduced time to market. IDC, the tech analyst firm, estimates the mean cost of enterprise downtime at $250,000 an hour. So, every time you remove the possibility of downtime caused by misfiring manual updates or "configuration drift", you're effectively putting money back into the company.
But storage and compute are just two of the three pillars of the modern software-defined data centre. The third, of course, is networking. And data centre networking still presents a massive challenge for organisations. Even if they don't actually realise it.
Research by IDC showed that the biggest challenge - mentioned by 41 per cent of execs - is simply keeping pace with compute and storage automation. Supporting mixed workloads and environments is close behind, flagged up by 39.5 per cent. The challenge of managing multivendor infrastructure was flagged up by a third, as is the need for agility, in the form of supporting cloud applications and architectures. Almost as many, 32.7 per cent, mention the need for AI-enabled network intelligence to take the load off manual processes, while ease of management - or the lack thereof - is flagged up by 29 per cent.
Application and business continuity and resilience is far and away the biggest driver for the increasing automation - cited by 45 per cent of respondents - while greater network flexibility and reduced operation costs were both named by 38 per cent. Networking agility and implementing proactive operations and management via intelligent tools were both raised by 31.2 per cent of companies surveyed.
You are not as autonomous as you think…
So, it's clear that practitioners in the real world grasp the benefit of increased data centre automation, and more than half of operators have either deployed or are either planning to deploy it. However, this is heavily weighted towards organisations with two or more data centres, with almost two thirds of organisations with just one data centre having no plans for automation.
But the reality is most organisations have yet to progress past the semi-manual in their data centre automation initiatives. Configuration management tools such as Ansible, Puppet and Terraform were used by almost half of respondents, with one in five relying on command line/SNMP, and slightly fewer using networking analytics. Just eight per cent used an SDN controller/overlay architecture, while a mere 6.3 per cent were using closed loop, autonomous driving network or self-driving networks.
The key factors holding back automation were lack of resources and the migration of applications to cloud, both of which were mentioned by almost a quarter of respondents. Almost one in ten organisations said the demands of firefighting and other distractions were the biggest barrier to automation.
So, although there is a clear appetite for autonomous data centres, it is perhaps difficult for companies to map their route to this. If nothing else, how does one measure even autonomy?
That's why Huawei has worked with IDC to develop a framework to help customers put all this in context, with an Autonomous Driving Data Centre Index. This takes a leaf out of the autonomous vehicles' playbook, with a six-level scale, ranging from 0 to 5.
Level 0 means "fully manual operations and maintenance throughout the network lifecycle with no automation", while level 5 envisions "the network is fully automated and self-driving throughout the life cycle, capable of applying policy and troubleshooting and remediating events. Operators trust that the network can function and adapt to almost every known scenario."
Interestingly, when presented with this scale, most companies rated their own data centres between level two and four, IDC's research showed. However, "IDC strongly suspects that some respondents took a generous view of their current automation status and are perhaps less advanced than indicated."
While hyperscalers might well have achieved the upper levels of automation, this will be off the back of inhouse development and custom silicon. So, what does the state-of-the-art technology looks like when it comes to enabling the self-driving data centre network?
A very large clue comes from an evaluation project carried out by testing and evaluation firm The Tolly Group, which assessed Huawei's CloudFabric architecture, which spans service orchestration, resource management and fabric-device layers. The Huawei-developed solution leverages AI and machine learning at the core, to underpin planning, deployment and provisioning, and provide ongoing self-healing and optimization during operation. This lays the groundwork for progressively more and more autonomous operations. Tolly also subjected Cisco's Intent Based Networking (IBN) in Application Centric Infrastructure (ACI) mode to the same evaluation.
Head to head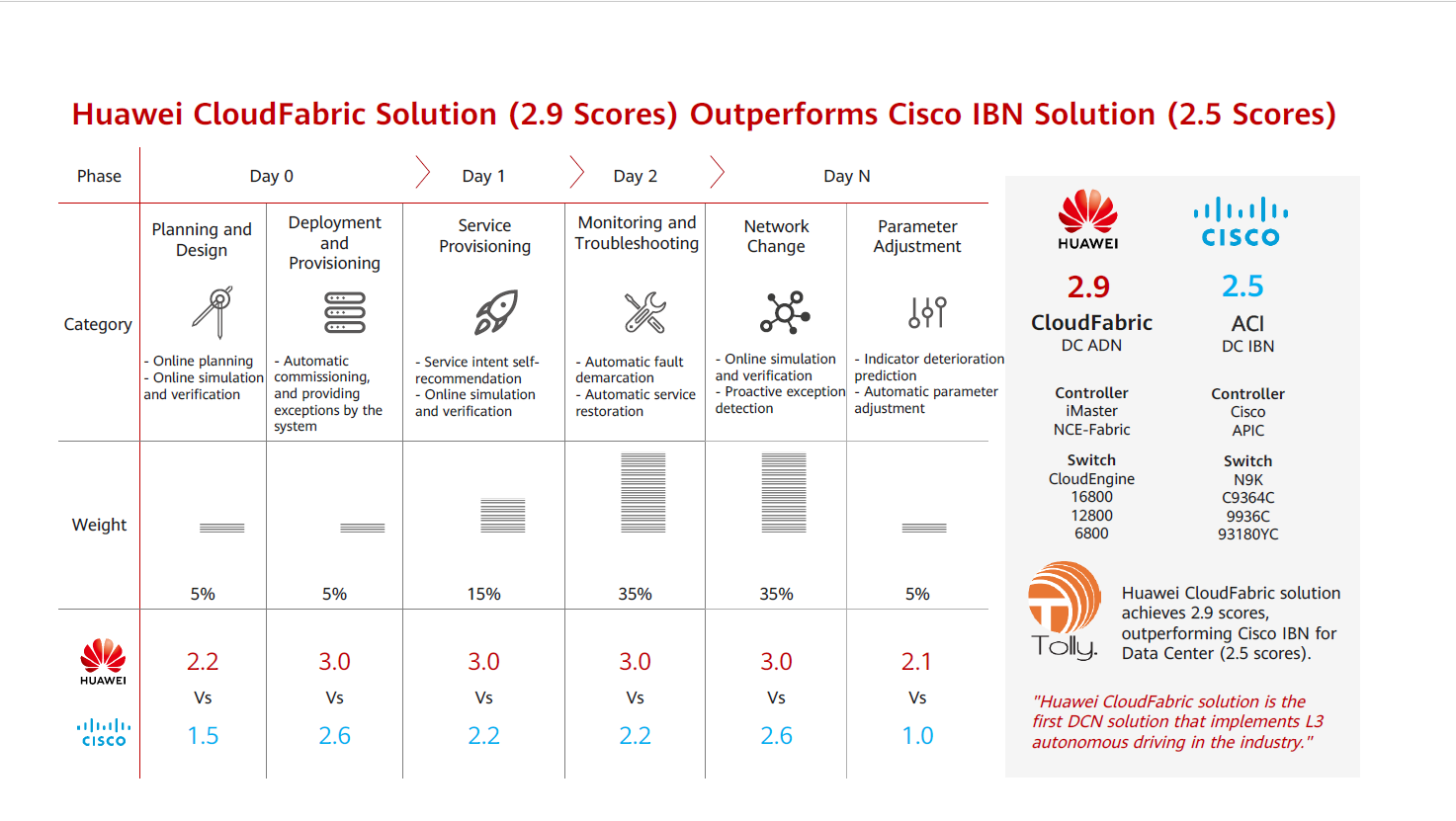 To compare the two platforms Tolly broke down the IDC self-driving index into over 100 individual tests covering the array of individual tasks that need to be automated over the network lifecycle. These ranged across Day 0 planning and design and deployment and provisioning tasks, from initial design through to installation and verification, through Day 1 services provisioning, Day 2 monitoring and troubleshooting, and Day N ongoing network change and parameter adjustment.
Day 0 deployment and provisioning carried a five per cent weighting, while Day 1 service provisioning carried a 15 per cent weighting, with Day 2 monitoring and troubleshooting and Day N network change, each carrying 35 per cent weightings. Huawei's CloudFabric hit the 3.0 mark in all these categories.
The outcome was that Huawei's CloudFabric scored 2.9 overall, making it the first data centre fabric to effectively achieve level 3 automation, providing what Tollly describes as a Conditional Autonomous Network. This means that "in specific scenarios, the system provides intent interaction interfaces and tools based on the service intent, greatly reducing requirements on users' network experience and skills."
Cisco IBN's top scores were 2.6 in Deployment and Provisioning, and 2.6 in Network Change, and overall, IBN scored 2.5. Tolly stated that "Huawei CloudFabric Solution has a higher deployment efficiency, accuracy, usability, maintainability, availability and management scale than Cisco IBN Solution."
So, Tolly states, admins can feel comfortable that the system can detect environmental changes in real time, with the system monitoring the network, analysing root cause of exceptions based on dynamic policies, and assisting users in decision making. This results in the system providing "basic closed loop management".
That's still some way off the dream of the completely autonomous, self-managing data centre network, and observers expect that such networks will not become a mainstream reality until the second half of this decade. But they are undoubtedly coming, and companies need to be preparing for that, as the interim stages are enabled in the coming years.
Their first step, according to IDC, should simply be to make a realistic assessment of where they are now, and where they need to be. This means assessing their technology needs, benchmarking their current setup and making an assessment of how the market is likely to develop, so that they can align their network with the enterprise's business needs.
At the same time, enterprise should evaluate their skill sets, again with the idea of how to align with current and future requirements and identify where they will need help. This raises the issues of organisational structure and operational models. The drive to cloud is often accompanied by structural change - some would say this is a prerequisite - and network specialists may expect to work in a much more integrated way with their counterparts in development or ops.
Finally, because none of this happens in isolation, IDC advises companies that they should identify trusted vendors and third parties that can help them negotiate the path to autonomy. The final destination may be the self-driving data centre but getting there means choosing the right co-driver today.
IDC: Leveraging the Autonomous Driving Datacenter Network Index is available here.
Sponsored by Huawei