This article is more than 1 year old
33 'unsustainably loss-making' Dixons Travel outlets set to be shuttered affecting 400 staff
Electronics retailer 'confident' workers can be offered opportunities elsewhere in the business
Dixons Carphone is to permanently ground its airport stores that employ 398 staff, amid mounting losses and following the British government's discontinuation of airside tax-free shopping at the start of 2021.
The decision to shutter the Dixons Travel outlets was confirmed in a trading update covering the 51 weeks ended 24 April, which show group turnover rising 14 per cent year-on-year as online sales more than doubled to £4.5bn.
A spokesperson told The Reg: "Today's announcement follows an unprecedented year for the travel industry, which has seen UK airline passenger volumes fall by 75 per cent in 2020 due to COVID-19 restrictions.
"This, coupled with our expectation that passenger numbers will not recover sufficiently to compensate for the removal of the tax-free shopping concession by the UK Government from 1 January, means Dixons Travel, which makes up just 1 per cent of our UK&I selling space, has become unsustainably loss-making.
"We are, therefore, proposing to close our Dixons Travel business. We're confident we'll be able to offer any of the affected colleagues who want to stay another role elsewhere in Dixons Carphone."
As well as being located in major airports across the UK, in Dublin and Oslo, two of the stores were run as concessions on P&C cruises.
In other challenging news for Dixons staff, the company confirmed that "as part of our Mobile transformation" it has closed its Carphone Warehouse stores in the Republic of Ireland. This was not a surprise given the large number of standalone Carphone stores in the UK that have been closed in recent years.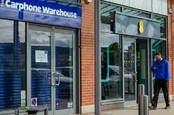 Dixons Carphone top brass take 20% pay cut as swathes of Brit workforce furloughed
READ MORE
As for the financials, the group was up 13 per cent year-on-year in the UK and Ireland for the 51 weeks, and international sales grew 16 per cent, including a 17 per cent rise in the Nordics and 9 per cent in Greece. The fully audited results will be published on 30 June.
The company said that given the "strong financial position", it had "reimbursed all government support for the £73m of furlough paid to UK&I colleagues during the year." The company expects profit before tax for the year to be in line with current forecasts of £151m.
At the halfway stage of Dixons' fiscal '21, CEO Alex Baldock was questioned about repaying the support money. He and fellow execs took a 20 per cent pay cut last year as lockdown measures bit hard on bricks-and-mortar retailers. Baldock was paid £850,000 in the year to April 2019. ®