The Fast and the Curious: Safety-conscious Red Hat eyes continuously certified Linux platform for motors
Can open innovation work in the automobile industry?
IBM tentacle Red Hat has waded into the world of automobiles with the intent of attaching wheels to a continuously certified Linux platform.
The company has signed up safety outfit exida in its goal to deliver a version of Linux that is both certified for safety for the automobile industry while also designed for continuous updates throughout its lifecycle.
It is a scary thought, but while this hack's transport of choice is an ancient, first-generation Volkswagen Golf with little more than a fusebox at the heart of its electrics, modern vehicles are more like mobile data centres these days, once one takes into account driver assistance functions as well as the plethora of infotainment on offer.
Red Hat's plan is to go down the ISO 26262 route to reassure vendors that its code is a better bet than the proprietary components at work today.
Sure, the company admits that the "intentionally slow components... maximise risk reduction and minimize mistakes" but hey, open innovation is cool too. The company plans to combine its experience of secure computing at scale with functional safety to find a home within the automobile system lifecycle.
Stefanie Chiras, senior vice president and general manager, Red Hat Enterprise Linux Business Unit, rolled out the inevitable "edge" and "hybrid cloud" keywords with the reassurance: "This evolution doesn't change the ever-present demand for greater reliability and functional safety, which extends to the software backbone of next-generation cars, all connected by edge computing and the open hybrid cloud."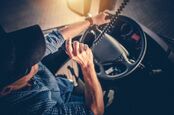 SUSE plots edgier Kubernetes with Linux behind the wheel
READ MORE
Chiras went on: "By working with exida, we now intend to bring our expertise and the capabilities of the world's leading enterprise Linux platform to the automotive industry with the first Linux-based, continuously certified road vehicle operating system."
Red Hat is not the first Linux player to turn its gaze to that most edgy of edge devices: the automobile. SUSE told The Register last year that it hoped its wares would turn up in vehicles before long. Just last week it reaffirmed its partnership with automotive software supplier Elektrobit to make software sharing the SUSE Linux Enterprise codebase available to motor manufacturers.
Competition is a good thing, and Red Hat's focus on functional safety is to be applauded. The car in front might well end up have a Chameleon or Fedora badge on the back.
Ours, sadly, continues to simply leave a sad little puddle of oil on the garage floor. A continuously updateable Linux under the bonnet is unlikely to fix that any time soon. ®