This article is more than 1 year old
Red Hat OpenShifts gears at summit to pin its future on 'open hybrid cloud'
Kubernetes takes centre stage as open-source giant aims to offer OpenShift everywhere
Red Hat introduced new managed cloud services at its 2021 summit and expanded the OpenShift Kubernetes platform with improved security, management, and Edge deployment features.
CEO Paul Cormier kicked off yesterday's keynote with a speech in praise of open source, stating that "it's only the open-source model that brings collaboration across many global communities."
He reminisced about the first non-beta release of Red Hat Linux in May 1995. At the time Linux needed more enterprise attributes if companies were going to bet their businesses on it, he said, and the 2003 Red Hat Enterprise Linux (RHEL) was "introduced to bridge this gap."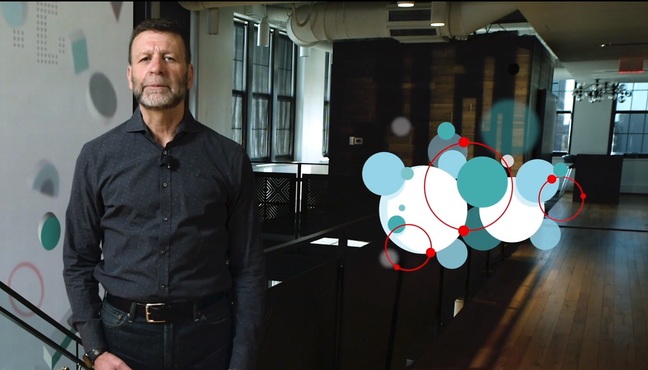 Red Hat CEO Paul Cormier reminisces about the history of Red Hat Linux at the summit keynote
RHEL remains the foundation of the company's technology, but the news at the summit was more focused on OpenShift than RHEL. The company announced Red Hat Edge, which is a package including the following components:
OpenShift, which since version 4.6 released late last year includes support for small 3-node clusters and remote worker nodes, where a cluster can have remote nodes (machines) controlled from a central location.
Red Hat Advanced Cluster Management for Kubernetes, which is a single console that can manage multiple Kubernetes deployments in different locations.
The Ansible Automation Platform for infrastructure management.
Red Hat Data Services, which provide container storage and Ceph storage clusters for use by OpenShift.
Red Hat Integration, which is the service orchestration and messaging piece, including API management and Red Hat AMQ, for message queuing and data streaming.
Although the pieces in Red Hat Edge are mostly not new, the packaging reflects a view that the technologies are ready for production use.
As for RHEL itself, version 8.4 is still in preview, with general availability promised in the next few weeks. RHEL 8.4 is a minor version release though with updates to many key components; the full list of changes is here.
Alongside hype for Red Hat Edge and OpenShift, the company was keen to talk up what it calls Open Hybrid Cloud – the idea that you can run OpenShift on-premises or on any public cloud and have consistency of operation as well as central control via Advanced Cluster Management and Ansible Automation.
The pitch is similar to that of VMware and equally somewhat forced: if Red Hat is not able to compete with the likes of AWS, Microsoft Azure, and Google Cloud Platform (GCP) in terms of cloud infrastructure, the best it can do is to partner with those clouds to run its stuff.
This is why both Microsoft's Scott Guthrie (Executive Vice President, Cloud) and Matt Garman (VP, Worldwide Sales and Marketing) from AWS popped up in Red Hat's keynote. The messaging is nuanced: both Microsoft and AWS have their own Kubernetes products, but Guthrie focused on the value of integrating with other Azure services, while Garman said OpenShift on AWS could smooth the transition to cloud for Red Hat customers.
At the summit, Red Hat introduced new managed services – where Red Hat takes responsibility for operating and patching VMs and other infrastructure – which is distinct from merely running Red Hat products on public cloud.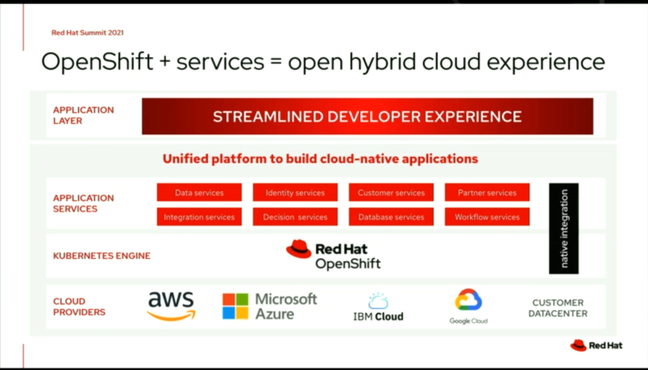 Open hybrid cloud ... An application platform with OpenShift at the core
Red Hat OpenShift Dedicated already exists as a managed service on AWS and GCP, and on Microsoft's platform as Azure Red Hat OpenShift. The company now has three new services. OpenShift Streams for Apache Kafka is for connecting to real-time data streams and is in preview. OpenShift Data Science is for Machine Learning (ML) and is in beta, while OpenShift API Management is fully available. All are add-ons for either OpenShift Dedicated or OpenShift Service on AWS. It seems that despite warm words about Microsoft and the appearance of big cheese Guthrie at the summit, AWS is getting Red Hat managed services ahead of its competitor.
Red Hat also introduced OpenShift Platform Plus, which bundles OpenShift with Red Hat Quay, a container register, Advanced Cluster Management, and a new thing called Advanced Cluster Security. This last one is based on technology that came with StackRox, a Kubernetes security company acquired in February. Stackrox itself is a bundle of different security measures, including visibility, vulnerability management which inspects container images and Kubernetes deployments, compliance audits, best-practice configuration and hardening, rule-based threat detection, and network segmentation.
What about Red Hat's own Cloud.redhat.com? Despite the name, this is not a managed service, senior director of product strategy Brian Gracely told The Reg. "Cloud.redhat.com contains multiple applications – including Red Hat Insights, OpenShift Cluster Manager, OpenShift Cost Management, Red Hat Subscription Management. Over time the functionality will expand, but today it is primarily focused on applications that assist in the management of various Red Hat technologies (OpenShift, RHEL. Ansible)." Gracely noted that there is a managed OpenShift service on IBM Kubernetes.
Is OpenShift now Red Hat's core product? That was a question asked but not answered at a summit press session. There is a clue in an answer given by IBM president Jim Whitehurst last month, at a Morgan Stanley Technology event. Whitehurst positioned OpenShift as a "common container platform" in the same way that RHEL (from his perspective) is "a common Linux". And OpenShift, he said, has 10 times the TAM (Total Addressable Market) as RHEL. "There's just so much more value in the platform," he claimed. ®