This article is more than 1 year old
Major shift in smartphone market sees Chinese kit win the middle while Apple and Samsung skim the cream
Many owe thanks to Huawei ducking out under what IDC calls 'increased weight of US sanctions'
People are buying smartphones again, according to figures from analyst IDC which show the market grew 25 per cent year-on-year in Q1 2021.
This translates to 346 million devices, with the strongest growth coming out of China (30 per cent) and Asia Pacific (28 per cent).
IDC research director Nabila Popal said:
The recovery is proceeding faster than we expected, clearly demonstrating a healthy appetite for smartphones globally. But amidst this phenomenal growth, we must remember that we are comparing against one of the worst quarters in smartphone history, Q1 2020, the start of the pandemic when the bulk of the supply chain was at a halt and China was in full lockdown.
But the numbers aren't to be sniffed at because that's still an 11 per cent growth on Q1 2019. Popal said they reflect repressed refresh cycles and a boost from 5G. She also described deepening dependence on smartphones as a post-pandemic reality and a contributor to the boom.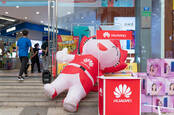 Huawei revenue dips 16 per cent to $23.5bn. Bosses aren't worried because decline was a matter of (selling smartphone brand) Honor
READ MORE
Huawei dropped out of the top-five smartphone companies for the first time in years, thanks to US sanctions and the sale of its smartphone sub-brand, Honor. Huawei's revenue dipped 16 per cent to $23.5bn in Q1 2021.
LG has also extracted itself from the market, leaving a less dramatic but relevant space for competitors to grow.
Analyst house Counterpoint named Oppo as China's new top smartphone brand, so it is no surprise that it has replaced Huawei in the top five with 10.8 per cent market share, up from 8.3 per cent in Q1 2020.
Other members of the top five are Samsung (21.8 per cent), Apple (16 per cent), Xiaomi (14.1 per cent) and Vivo (9 per cent). This translates to over 75 million units for Samsung, 55 million for Apple, and a combined 120 million among the three China-based vendors, who have increased their focus on international markets in Huawei's absence.
It appears remaining vendors in the low to mid-priced smartphone market benefited the most from Huawei's decline while Samsung and Apple remain at the high end. ®