This article is more than 1 year old
Samsung, Intel tease joint effort on new chip 'microarchitecture leveraging multiple types of XPU cores'
But for now, have some thin, light x86 Galaxy Pro laptops
Samsung is touting some more Wintel laptops – the Galaxy Book Pro and Galaxy Book Pro 360 – and also teased a collaboration on new silicon.
The machines come in 13-and-15-inch variants, and pack 11th-gen Intel Core i3, i5 or i7 processors, Intel Iris graphics, plus up to 1TB of NVMe SSD storage. The 13-inchers offer an optional nano SIM slot and connectivity compatible with 4G and 5G. All are very thin and light.
The Pro 360 can fold over to become a tablet or operate in a so-called tent mode, and ships with Samsung's S-Pen stylus that now more closely resembles a pencil rather than the Pocky chocolate-biscuit-stick-like model shipped with Galaxy smartphones. The non-360 Pro is a good old clamshell McLaptop affair.
Samsung has done x86-based laptops before, of course, as well as Galaxy Book S devices powered by Qualcomm-designed chips.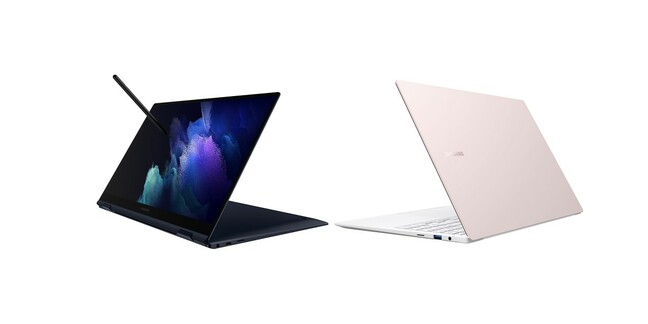 Samsung's Galaxy Book Pro 360, left, and Pro ... Source: Samsung
The South Korean giant says it's possible to mirror the laptops' screens on a Galaxy Tab, and run smartphone apps on the PCs. Samsung has also used AMOLED displays for the computers, the same tech it uses in its smartphones, smartwatches, and Galaxy Tab fondleslabs. Doing so apparently represents some kind of integration across the mobile ecosystem. All four Galaxy Pro models sport 1920 x 1080 screens.
The new machines also conform to Intel's Evo spec for thin, light, always-connected devices that boast long battery lives.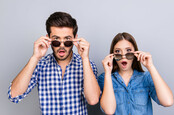 Samsung aims first 512GB DDR5 DRAM chip built on High-K/Metal Gate tech at HPC, AI markets
READ MORE
Intel and Samsung also said they will be "creating a new co-engineering team dedicated to advancing mobile computing innovation," and will "collaborate to deliver leading-edge technologies."
One item on that team's todo list: "A new microarchitecture from Intel leveraging multiple types of XPU cores."
Intel told us it is not sharing any more than that for now. But it is a matter of record that Intel likes the idea of blending CPUs, GPUs, and FPGAs into what it calls an XPU, and that Samsung makes very handy Exynos system-on-chips that it sees as like-for-like substitutes for Qualcomm kit. Exynos is Arm-based, raising the tantalizing prospect of this collaboration offering Intel a way back into mobile devices, a billion-devices-a-year market that it has all but missed. ®