This article is more than 1 year old
Korean app-maker Scatter Lab fined for using private data to create homophobic and lewd chatbot
Users weren't warned conversations on chat apps were being used to build a bot. And parents weren't told their young kids had signed up
South Korea has issued its first ever sanction against an AI technology company for the "indiscreet processing of personal information."
The recipient of the honor is Seoul-based start-up Scatter Lab, who was ordered to pay 103.3 million won (US$93k) for not obtaining proper user permissions.
The company illegally harvested data from 9.4 billion conversations conducted by 600,000 users of its other apps, "Science of Love" and "Text At",
The Science of Love app focused on conversations between romantic partners to predict a partner's true levels of affection. Those insecure about their mates could pay equivalent US$4.50 to upload their KakaoTalk messenger logs to Science of Love and be reassured of (or disappointed by) their partner's level of love.
The app was a hit. By summer 2020 Science of Love had been downloaded 7.5 million times in South Korean and Japan and Scatter Lab planned to start capitalizing on relationship insecurity in the US.
However, expansion came to a screeching halt when Scatter Lab added a chatbot service named "Lee-Luda", marketed as a 20-something AI friend available for those who'd given up on human interaction.
However, Lee-Luda had a proclivity towards lewd and homophobic speech, and she also leaked personal data. Furthermore, Lee Luda's training data was uploaded to GitHub thus exposing names, locations, relationship status and even some medical information.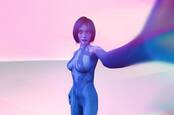 In a devastating blow to all eight of you, Microsoft pulls the plug on Cortana's Android, iOS apps
READ MORE
Lee-Luda was shut down and Science of Love was slammed with damming Google Play reviews.
It gets worse: some of the data used to build the bot was from children, as Scatter Lab did not obtain parental consent before allowing 200,000 users under the age of 14 to join Science of Love and Text At.
The 103.3 million won charges break down to a penalty surcharge of 55.5 million won (US$50k) and an administrative fine of 47.8 million won (US$43k).
"Because the user's right to self-control of personal information is limited, the user may suffer unpredictable damages," states an announcement by Korea's data protection watchdog, the Personal Information Protection Commission (PPIC). ®