This article is more than 1 year old
Börk returns to its spiritual home of Sweden as duff disks take down Stockholm signage
Think we already made a Stockholm syndrome joke the other day so...
Bork!Bork!Bork! Scandi noir may have been all the rage in recent years, but what of Swedish signage? It is time for... Scandi Bork.
Today's example was snapped a little while ago by Register reader Alexander at the Sveavägen and Kungsgatan crossing in the beautfiul city of Stockholm.
Locals pausing to look up could not fail but notice that whatever is powering the giant screens has had some difficulties in the disk department. Neither Windows nor Linux can be blamed for this whoopsie unless one considers that perhaps a bootloader is struggling to detect the hard drive.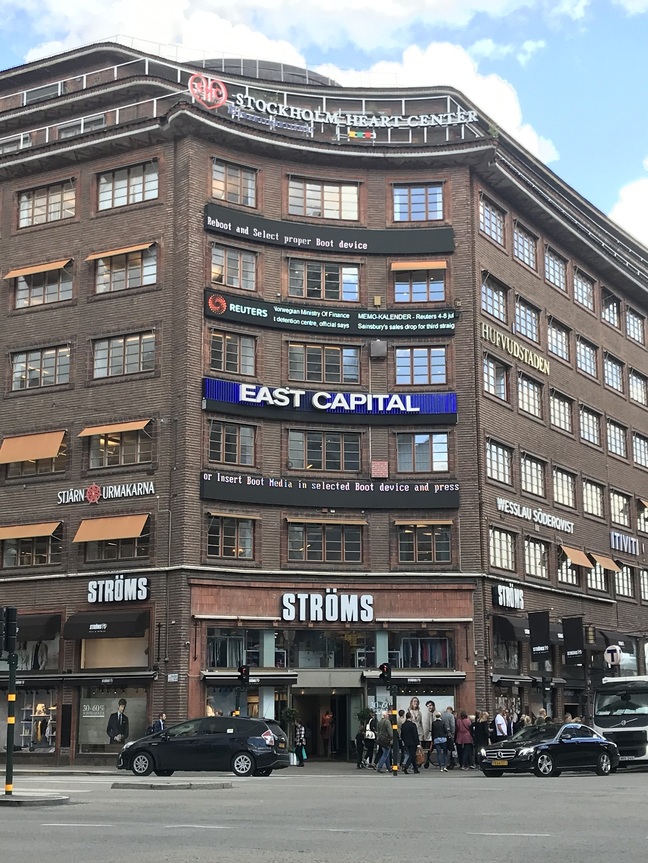 Click to enlarge
More likely is that the storage device behind the scenes has suffered some sort of failure and revealed that two of the screens are being delivered from the same computer (unless two systems dropped over at the same time).
Still, while the system bleats its distress at the streets below (and the administrator responsible is likely too busy chowing down on meatballs and kaffebröd to notice) we can at least take heart that the Reuters screen remains active in the face of the borkage.
Sadly, however, that Reuters display does not appear to have survived the pandemic and is not present on a recent update taken by Google's vaguely creepy street snapper. The screens spotted by Alexander, however, remain. Displaying the most lurid green and blue possible.
Functioning with quiet competence, it seems, merits removal. Bork, on the other hand, is its own reward. ®