This article is more than 1 year old
Streaming mad: EC charges Apple with abuse of dominance, distorting competition in Spotify case
If found guilty, Cupertino could have to cough over $27bn
The European Commission today said it believes Apple has abused its absolute control of app distribution on iOS, resulting in the disadvantage of third-party streaming services that compete with Apple Music.
In its Statement of Objections, the Commission took umbrage with Apple's strict (and non-negotiable) terms that all developers must comply with, as well as the App Store's position as the sole available method of app distribution on iOS (and other similar platforms, like iPad OS).
Per the App Store's terms, Apple has forced developers to use its own payment infrastructure, where it takes a 15 to 30 per cent cut. Additionally, the use of other in-app payment systems (like PayPal or Stripe) are strictly prohibited, and inevitably result in an app being removed until it re-enters compliance.
The Commission noted that Apple users tend to be loyal to the platform, and seldom switch to competing operating systems, resulting in developers having limited (if any) leverage in disputes.
Although Apple's terms allow for subscriptions bought beyond the walled garden of the App Store to be used, developers are banned from marketing them to users within the app, which the Commission described as an "anti-steering provision."
The EU can fine Apple up to 10 per cent of its annual revenue, a sum which could amount to over $27bn based on fy2020's top line; it can also force Apple to change its rules for users resident in the bloc.
In the background, the EC is also conducting a separate probe into Apple over how it treats payment providers and developers in its Apple Pay system.
More expensive
Streaming services (and any other third party that relies on monthly subscription revenue) routinely charge more for subscriptions bought through the App Store, to account for Apple's hefty cut. Given streaming apps made by Apple aren't subject to this "tax," they're able to more effectively compete on price.
The Commission said it believes that Apple's policies have distorted the market for music streaming services, resulting in higher costs for consumers.
The EC specified the rule allegedly being infringed was Article 102 of the Treaty on the Functioning of the European Union, which prohibits companies from abusing their existing dominant position.
The publication of a Statement of Objections is an early, but important, step in a wider antitrust investigation. The Commission has informed Apple of its assessment about its objections, and has given it a right-of-reply. The company can now ask for an oral hearing, issue a written response, or ask to examine the evidence collected to this date.
Put on the Spotify
This investigation was instigated in June last year by a complaint from music streaming giant Spotify, which has long balked at Apple's payment policies, and has been among the most vocal lobbyists for reform in the US.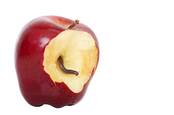 Not so nice, we investigated them twice: EU opens double whammy of inquiries into Apple's biz practices
READ MORE
Spotify is also one of the founding members of the Coalition for App Fairness, a US trade organization that also counts Tile and the Match Group in its ranks, and has pushed vociferously for statewide legislation in the United States that would chip away at Apple's ironclad control of the app store, albeit without any real success.
In a statement, the Commission's executive veep Margrethe Vestager said: "Our preliminary finding is that Apple is a gatekeeper to users of iPhones and iPads via the App Store. With Apple Music, Apple also competes with music streaming providers."
She added: "By setting strict rules on the App store that disadvantage competing music streaming services, Apple deprives users of cheaper music streaming choices and distorts competition. This is done by charging high commission fees on each transaction in the App store for rivals and by forbidding them from informing their customers of alternative subscription options."
The results of the preliminary investigation were welcomed by Deezer, a relative minnow in the music streaming space. In a statement, Alexander Holland, chief content and strategy officer, said:
"We applaud the Commission's findings today. It's an important step towards a fair competitive landscape where dominant market players like Apple have to compete with independent companies like Deezer on quality of service, innovation and consumer experience, rather than artificially created barriers and a lack of a level playing field."
He added: "Consumers benefit from fair competition through better and more diverse offers, features and content. While this is only the first step on a longer journey, we are happy that the Commission is acting in the interests of healthy European competition," he added.
How about them Apples?
In recent months, Apple has attempted to dampen criticism of its app store policies by lowering the commission rate for smaller developers to 15 per cent. For larger-ticket purchases, this is still more than what you'd conceivably pay with Stripe, which takes 2.9 per cent plus 30 cents for each successful card charge.
Apple struck a defiant tone in a statement provided to The Reg: "Spotify has become the largest music subscription service in the world, and we're proud for the role we played in that. Spotify does not pay Apple any commission on over 99 per cent of their subscribers, and only pays a 15 per cent commission on those remaining subscribers that they acquired through the App Store.
"At the core of this case is Spotify's demand they should be able to advertise alternative deals on their iOS app, a practice that no store in the world allows. Once again, they want all the benefits of the App Store but don't think they should have to pay anything for that. The Commission's argument on Spotify's behalf is the opposite of fair competition."
Speaking at Apple's Q2 2021 earnings call, Tim Cook said the company would face regulatory scrutiny by "telling [its] story."
"If we feel that more disclosure would help, we would obviously move in that direction. The App Store and other parts of Apple are not cast in concrete. And so, we can move and are flexible with the times," he said.
"For example, in the App Store, as you know, just a couple of quarters ago, we lowered the commission rate for small developers to 15 per cent. So that was an example of moving with the times, and we've gotten a great, great reception to that. And so, we continue to learn, and I think it's very important that we're very clear about why we do what we do," he added. ®