This article is more than 1 year old
Known software issue grounds Ingenuity Mars copter as it attempted fourth flight
NASA chose not to re-install OS and live with a 15 percent failure rate
Software issues prevented the fourth scheduled flight of NASA's Mars Ingenuity helicopter.
The delay was not unexpected nor prevents future flights. In fact, NASA reassured a waiting world that the helicopter is "safe and in good health."
The reason for the failure is also known: a software bug that results in a watchdog timer expiration prior to mode transition. And if Ingenuity doesn't make it into flight mode, it doesn't fly.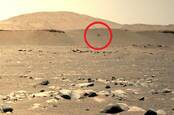 NASA's getting really good at this flying a helicopter on Mars thing
DIDN'T AGE WELL
NASA identified the bug two weeks ago and found two ways to solve the problem. One was to change the timing of the transition by adjusting the command sequence from Earth. The other was to modify and reinstall Ingenuity's existing flight control software.
NASA chose the first option as it considers it the less disruptive option. The rover's flight control software has been stable and healthy for almost two years, and why mess with a good thing there?
NASA's tested its preferred strategy on both planets and knows it creates a 15 percent chance Ingenuity won't transition and that some flights may fail.
As a backup plan, NASA's boffins have uploaded a new version of Ingenuity's flight software to the Perseverance rover. Should this option become necessary, the helicopter will be out of commission for a few days while engineers load and test the new software, then attempt flight again.
NASA remains cheery about the issue. In a blog post, the agency said:
We're doing everything we can to make it a success, but we also know that we may have to scrub and try again. In engineering, there is always uncertainty, but this is what makes working on advanced technology so exciting and rewarding.
The fourth flight is now scheduled for Friday 30 April at 10:46 a.m. EDT with first data expected to land at JPL at 1:39 pm EDT. On Friday at 11:30 am EDT, NASA will discuss what's in store for the helicopter. ®