This article is more than 1 year old
NYPD puts down $94k robot canine contract after outcry
Digidog will be returned to its Boston Dynamics owners
The New York Police Department has ended its $94,000 contract testing a robot canine named Digidog and is returning it to its makers, Boston Dynamics, after facing harsh criticism from residents and top politicians.
"The contract has been terminated and the dog will be returned," the NYPD told The Register, declining to elaborate.
The experiment to see how Digidog could aid law enforcement was cut short, John Miller, the police force's deputy commissioner for intelligence and counterterrorism, confirmed this week. Originally set to expire in August, NYPD said it decided to scrap the contract early over the controversy it caused.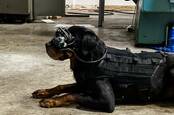 What's that, Lt Lassie? Three terrorists have fallen down a well? Strap on these AR goggles and we'll find 'em
READ MORE
"People had figured out the catchphrases and the language to somehow make [the technology] evil," Miller said, according to the New York Times. Critics claimed Digidog was unfairly snooping on city residents, contributed to the militarization of police, and believed the tens of thousands of dollars used to rent Digidog could have been spent elsewhere.
A recent viral video showed Digidog exiting an apartment building in New York City with police officers behind a man who was handcuffed. Onlookers were shocked to see the four-legged, headless machine pounding the streets with law enforcement in such a way.
The metallic canine has been deployed in other areas of the city too since it was first acquired last August, and caught the attention of US House Representative Alexandria Ocaso-Cortez (D-NY), who slammed the decision to blow thousands of dollars of public money on technology for spying on low-income areas and people of color when schools could do with the cash.
Shout out to everyone who fought against community advocates who demanded these resources go to investments like school counseling instead.

Now robotic surveillance ground drones are being deployed for testing on low-income communities of color with under-resourced schools 👍🏽 https://t.co/ZqKtnexctb

— Alexandria Ocasio-Cortez (@AOC) February 25, 2021
NYC Mayor Bill DeBlasio wasn't a fan of the robot canine, either. Bill Neidhardt, a spokesperson for DeBlasio, said he was "glad the Digidog was put down," and that the machine is "creepy, alienating and sends the wrong message to New Yorkers."
Non-profit groups, like The Surveillance Technology Oversight Project (STOP) also chastised the cops for deploying Digidog. "The NYPD is turning bad science fiction into real life," STOP's executive director Albert Fox Cahn, previously said in a statement. "There is no reason why our city should be spending $70,000 on yet another invasive surveillance tool."
Although the metallic doggo has been shelved, there's a chance it could return in the future during a less contentious time for police. "For now, this is a casualty of politics, bad information, and cheap sound bytes," said deputy commissioner Miller [really, bytes? – ed.]
"We should have named it Lassie."
The Register has asked Boston Dynamics for comment. ®