This article is more than 1 year old
Palantir co-founder, CEO Alexander Karp gets $1.1bn bumper payday in IPO year
Sometimes the love of ICE and UK.gov is not enough
CEO and co-founder of controversial AI and data analytics firm Palantir Alexander Karp raked in a total of $1.10bn following the company's September IPO, filings have revealed.
A regulatory listing showed he got $797.9m in options and $296.4m in stock on top of his regular measly salary of $1.1m in 2020. The total Karp received was up from $12.1m in 2019.
After the firm gained two-and-a-half times its debut price on the IPO, co-founder and president Steven Cohen was paid $192m, compared with $16.1m in 2019.
The company has attracted some criticism because of its background in the analysis of data at US defence agencies and the CIA, although it also claims Rio Tinto and IBM among its private sector clients.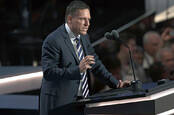 NHS awards £23m two-year deal to controversial Peter Thiel AI firm Palantir
READ MORE
But, keen readers may ask, what's wrong with being richly rewarded for a Trump-linked startup that was working with ICE during the time it was separating child immigrants and refugees from their parents?
In a market seemingly crowded with AI, analytics and data management firms, Palantir remains competitive by seemingly breezing into government contract without outside competition. Take the UK for example.
Here, the NHS has signed a £23m two-year contract with Palantir without scrutiny or outside competition.
It took the threat of a judicial review to ensure that the government's contract with the US AI firm would not be extended beyond COVID work without a public consultation.
The firm also acquired a role in mitigating and managing potential disruption at the border during the UK's official departure from the EU.
Palantir largely carries out information analysis and processing work for the defence and intelligence communities, often creating bespoke solutions such as digital-profiling tools for organisations like the CIA and ICE.
The firm was founded by prominent Trump financier and PayPal investor Peter Thiel. ®