This article is more than 1 year old
Philanthropist and ex-Microsoft manager Melinda Gates and her husband Bill split after 27 years of marriage
We know the pandemic has been tough on relationships but...
Bill Gates has announced his marriage has suffered a BSoD – the Blue Screen of Divorce – after 27 years with his partner Melinda.
"After a great deal of thought and a lot of work on our relationship, we have decided to end our marriage," Gates said in a statement.
"Over the last 27 years we have raised three incredible children and built a foundation that works all over the world to enable all people to lead healthy, productive lives. We continue to share a belief in that mission and will continue to work together at the foundation, but we no longer believe we can grow together as a couple in this next phase of our lives."
Given the Gates' net worth this could be one of the biggest divorce settlements in history, even considering Jeff Bezos' $38bn settlement with his now ex-wife Mackenzie. A prenuptial agreement may be in place but it looks, at first sight, as though the couple are treating this as an amicable divorce.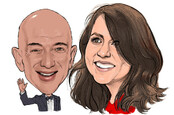 38 billion reasons to say goodbye: Ex-Mrs Bezos splits from Jeff with 4% of Amazon shares in tow
READ MORE
Both have committed to giving away their vast wealth – roughly $150bn – and will leave their kids enough money to "strike a balance where they have the freedom to do anything but not a lot of money showered on them so they could go out and do nothing," as Gates said.
The two started dating in 1987, when Melinda was working at Microsoft, and they married seven years later. They have raised three children to adulthood and together built the world's largest charitable organization, the Bill & Melinda Gates Foundation.
Thanks to the pair's efforts, polio is now on the verge of being exterminated at last, malaria deaths have been slashed, and new off-grid power and waste management systems developed that will improve lives in the developing world. They made it clear that work would be continuing together, despite the breakup, but have asked for privacy.
It would be easy, and somewhat facile, to call this marriage a failure in light of today's announcement, but the opposite is true. They successfully raised a family, have built one of the world's greatest charitable institutions – just like other robber barons of the past – and seemingly aren't going to burn all that down in a messy divorce. It's a refreshingly mature attitude. ®
From the archive: Microsoft on trial – an epic antitrust battle with Bill Gates right at the center