This article is more than 1 year old
Ex Netflix IT ops boss pocketed $500k+ in bribes before awarding millions in tech contracts
Pay-to-play bungs required to do business with video-streaming giant
Michael Kail, former veep of IT Operations at Netflix, was convicted on Friday on 28 counts of wire fraud, mail fraud, and money laundering after a federal jury found that he took advantage of his position to demand bribes from vendors.
"As Netflix's Vice President of IT Operations, Michael Kail wielded immense power to approve valuable Netflix contracts with small tech vendors, and he rigged that process to unlock a stream of cash and stock kickbacks to himself," said Acting United States Attorney Stephanie Hinds in a statement. "Netflix and other companies expect and deserve honest services from its employees."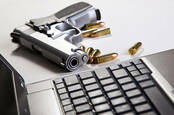 Apple's global security boss accused of bribing cops with 200 free iPads in exchange for concealed gun permits
READ MORE
Kail, 49, a resident of Los Gatos, California, is said to have pocketed more than $500,000 and stock options in exchange for approving millions of dollars worth of contracts with Netflix. He oversaw IT contracts and purchases for Netflix from November 2011 through August 2014.
The indictment against Kail describes how he created his own limited liability firm, Unix Mercenary, LLC, to collect kickback payments. Between February 2012 and July 2014, Kail is said to have obtained payments through Unix Mercenary from Netenrich, Inc. and its VistaraIT, LLC subsidiary.
The payments amounted to 12 per cent, and later 15 per cent, of the firms' billings to Netflix for providing staffing and IT services. Kail is said to have collected $269,986 and $177,863 from the firms, respectively.
Kail, Netenrich, and VistaraIT used the terms "referral fees," "arrangement," "my portion," and "invoice value," in correspondence and records to hide the nature of the payments, prosecutors from the US Attorney's Office of Northern California said during the two-and-a-half week trial.
Who cares if it works? Use it!
The indictment also says that Kail directed Netenrich, Platfora, Netskope, Numerify, Maginatics, Sumo Logic, Docurated, and Elasticbox to pay him kickbacks in the form of stock options in order to have him approve their contracts with Netflix.
Kail is said to have approved contracts with vendors even when company employees weren't happy with the products and to have shared a competing vendor's bid with a firm paying kickbacks. According to the US Attorney's Office, after Kail in July 2013 signed an "advisory" agreement with data analytics firm Platfora that gave him the right to buy 75,000 options, he gave Platfora internal data from Netflix about a competitor's bid.
And September 2013, while getting paid as an advisor at Platfora, he signed a $250,000 annual contract to have Platfora provide software to Netflix. He then urged employees to find a use for the software, despite their objections and the fact that Netflix was already using and paying for a competing product.
The feds recount a similar situation with data analytics firm Sumo Logic. After Kail approved an initial $300,000 payment to provide Sumo Logic software to Netflix, he later authorized a two-year, $800,000 contract between the two firms, even though a Netflix IT team said the product fell short of expectations. Kail is said to have emailed Sumo Logic to complain, "[i]t is becoming increasingly difficult for me to champion Sumo internally and then continue to have severe performance issues."
Among the 958 exhibits [PDF] gathered for the trial like email messages and financial records, one listed item, #930, without obvious relevance stands out for what it suggests about the prosecution's appreciation of irony: "Photo of Kail dressed as Robin Hood."
Kail could face up to 20 years in prison and a fine of $250,000 or twice either his gross gain or Netflix's gross loss, whichever is greater, for each count of wire or mail fraud. He also could receive up to 10 years in prison and a $250,000 fine for each count of money laundering. His actual sentence, however, will be balanced by US Sentencing Guidelines.
Netflix did not respond to a request for comment. ®