This article is more than 1 year old
Apple vs Epic Games trial kicks off featuring the same old arguments, hundreds of angry Zoombombing tweens
'Hello? I would please like Fortnite Mobile back...'
Apple and Epic Games met in California federal court on Monday, kicking off a bench trial with potentially radical consequences for how software is distributed and monetised on closed mobile ecosystems like iOS.
The formal commencement of the trial follows months of legal wrangling, prompted by Apple's decision to ban the popular free-to-play shooter Fortnite from the App Store last August. Epic Games had provoked Apple's ire after it introduced its own payment system, in protest of Apple's long-standing practice of swallowing 30 per cent of sales and in-app purchase revenue.
Tim Sweeney, Epic's outspoken CEO, told the jury (audio recording of the telephonic hearing here) that Apple's payment policies had deprived the company of "millions" in revenue which it could have reinvested in the business, and resulted in higher costs for users.
Fortnite was the highest-grossing game in 2019, with revenues of $1.8bn across all platforms, including iOS, Android, Xbox One, PC, and the PS4. Although free to download, Epic makes money by selling an in-game currency, which can be used to purchase weapons, skins, and other virtual items. Apple has claimed that Epic has earned $750m lifetime revenue from the iOS platform.
During the same period, Apple earned an estimated $15bn from the App Store, with gross sales of $50bn.
Katherine B Forrest, serving as counsel for Epic, additionally described the App Store as "monopolistic" due to its position as the gatekeeper for third-party software on the iOS platform. Whereas the open nature of Android allows for the sideloading of apps, as well as the use of third-party marketplaces, Apple has opted to exercise tight control over what software can run on iPhones and related devices.
In opposition, Apple argued that its control of the iOS platform didn't constitute an antitrust abuse as anyone can opt to use alternative platforms. Its counsel, Karen L Dunn, pointed out that as a gaming platform, iOS competes with Android devices, as well as more traditional consoles, like the Xbox and Nintendo Switch. Forrest countered that this line of argument "[defies] common sense" as people don't use their consoles and mobile devices interchangeably.
Apple re-emphasised its oft-repeated argument that its control of the iOS platform, encompassing distribution and payment processing, is a necessary evil to protect customers.
The second day of the trial is due to commence today, with Sweeney facing cross-examination.
While the ruling of a federal judge in this legal salvo would have nationwide consequences for both parties, Epic has shown an unwillingness to wait, launching a campaign to push legislation at the state level that would chip away at Apple's market control.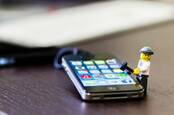 Googler demolishes one of Apple's monopoly defenses – that web apps are just as good as native iOS software
READ MORE
Although Epic has readily found allies willing to join this fight, including Spotify and gadget tracker manufacturer Tile, successes have proven more elusive. Legislation introduced in North Dakota and Arizona were respectively rejected and quietly killed during the committee phase.
Epic has additionally waged a brutal public relations campaign against Apple, painting it as the authoritarian "Big Brother" character depicted in the iconic 1984 Macintosh ad.
In April, Epic raised a $1bn funding round, giving it an equity value of $28.7bn. With plenty of cash in the bank, the developer looks set to continue this fight to the bitter end.
Although Apple and Epic Games stuck to their previous party lines, some novelty came in the form of the court's dial-in line, which had been misconfigured to allow all participants to speak.
For almost 20 minutes, a court employee played whack-a-mole with dozens of scratchy-voiced teens, who implored the judge to "bring back Fortnite," plugged their YouTube channels, hurled obscenities, and blasted music through the line. If you're tempted, you can listen to the chaos (and the rest of the hearing) in the video above. ®