Pega set to launch 'context-aware' APIs that let users tweak back-end processes without breaking front end
Updates designed to ease 'expensive and challenging' software, analyst says
Low-code, automation and workflow company Pega is releasing tools it says will help users tweak back-end processes without developers having to worry too much about breaking front-end UIs.
Among a gaggle of releases around its PegaWorld conference, the Massachusetts-based software company said its "context-aware" APIs would "dynamically update" as such that process changes could be accommodated without screwing up the UI or requiring new coding.
CTO Don Schuerman told The Register that the Digital Experience API "follows from technologies like GraphQL, in the sense that the API is self-describing, and that nature allows us to tell the front end – even if the front end is written outside of Pega – what the process needs at any given point.
"What that means is the process can change and evolve. It can be connected to a variety of different channels both internal systems and external front end. As the process changes. I don't need to recode any of those front ends to accommodate those changes."
Pega, which counts American Express, Santander, and BT among its customers, has also released a React-based version of the Pega Cosmos Design System, which Schuerman said offers developers an accessible, performant UI. "Our UI philosophy puts a prescriptive front end on top that allows them to get something that's going to be really good and usable, because we're pretty focused on this idea of doing workflow and doing processes."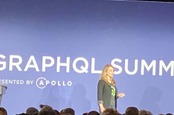 GraphQL a cut above the REST, say query lang's fans: Airbnb, Knotel, others embrace the tech
READ MORE
Updates to Pega's UI technologies are set to be available by the of Q2. Available end of Q1 is Pega Infinity 8.6, which focuses on process optimisation and workflow orchestration.
Neil Ward-Dutton, IDC veep for AI and automation practices, said the releases were an effort to remain competitive as Pega's market space rubs shoulders with Salesforce in terms of customer-facing apps, ServiceNow for workflow, and UiPath and Blue Prism in RPA. He said the UI technology updates would be welcome because "implementation is not easy."
"If you change the kind of the definition of what you're doing in the back end, you're adding an extra data field to a process that will then find its way automatically into the interface. What that means is, if the people working on the kind of core of the system have to introduce an extra data field, it's not going to break your app.
"The truth is very few people are just going to that pop up randomly on forms without going and tidying everything up, at least what it means is that you can manage the change faster, and you can manage it more predictably."
Unlike its rivals, which focus on specific applications or technologies, Pega tries to offer tools to link back-end applications to front-end customers, combining workflow, low-code and RPA.
But as a result it was expensive and challenging to build, Ward-Dutton said. "It's a big, very rich, very capable but quite complicated set of tools" that is likely to mainly appeal to top 500 companies.
The latest releases were intended to make it that bit easier to adopt and manage, he said. ®