This article is more than 1 year old
Philippines national ID registration portal opens, glitches out in first hour
2FA hasn't kept pace with registration and real-world biometric capture
The Philippines' attempt to expand its national ID program has stumbled thanks to scaling issues with its two-factor authentication tools.
The Philippine Identification System – known as PhilSys – commenced registration in 2020 but previously required completing a paper form, an oddity given the rationale for the project is to improve government services by doing away with the need to present physical documents when interacting with government agencies.
"As a foundational digital ID system, the PhilSys will transform how services are delivered and accessed in the Philippines, and accelerate our transition to a digital economy, including to enable presenceless, paperless and cashless transactions," says a National Economic and Development Authority explainer. Among the promised benefits is making it easier to open a bank account.
PhilSys is also being sold the citizens as just the thing to make service delivery safe during the COVID-19 pandemic. Yet the new online registration portal enables just the capture of basic demographic data and a visit to a government office to present documents and capture of biometric identifiers is required before an identity card will be issued.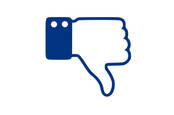 Philippines president threatens Facebook ban after The Social Network™ deleted supportive content
READ MORE
Over 28 million Filipinos have already completed initial registrations and the nation tried to increase that number by, last Friday, opening an online registration portal.
Which fell over in the first hour, after 40,000 attempted registrations overwhelmed systems.
The Philippines Statistics Authority, which oversees PhilSys, said the flood of would-be registrants "caused delays in the sending of the one-time passwords necessary to proceed with the registration."
At the time of writing, The Register understands the portal remains inaccessible and that Philippines government agencies are working to restore online registrations.
Over 6.5 million citizens and residents have already completed the biometric capture process, but Statistics Authority on Monday revealed that just 956 cards have been issued. ®