This article is more than 1 year old
Vietnam thanks Samsung for all its help, asks for more to go beyond mere manufacturing
Samsung in turn asks for access to clean 'leccy at high-level love-in
A high-level meeting between the Vietnamese government and Samsung has seen each party make a mutually beneficial request of the other, highlighting the success of the relationship - and the fact that both see room for improvement.
Samsung and Vietnam have history as the Korean tech manufacturer does most of its smartphone assembly in the nation and accounts for a quarter of the country's exports.
Samsung is also building the biggest AI, IoT, big data and 5G R&D facility of its kind in Southeast Asia in the city of Hanoi.
The relationship makes it only natural that the two would meet to consider other collaborations.
One of the projects discussed at this meeting was building a local supplier pipeline for Samsung, as Vietnam seeks to continue positive growth through what Minister of Industry and Trade (MOIT) Nguyen Hong Dienreferred to as "processing, manufacturing and supporting industries."
Nguyen said:
Vietnam's economic growth has continuously reached a stable and high level compared to the world. However, to maintain that growth momentum in the next 10 years will be a very difficult task, because there is not much room for development if a new way cannot be found.
Other join projects under discussion included a production improvement training program for Vietnamese consultants, a human resource training program, and an advisory improvement support program for businesses.
Under increasing pressure to adopt renewable energy, Samsung Vietnam asked for the MOIT's permission to buy 400MW to 1,000MW ranging renewable energy directly from private companies instead of through the government. This alternative purchase pilot program is available through a Direct Power Purchase Agreement (DPPA).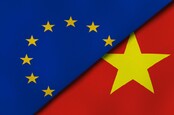 Vietnam reveals state-run Alibaba-and-Amazon alternative, aims it at the EU
READ MORE
In the meeting, Nguyen expressed thanks to Samsung for helping shape and improve Vietnam's economy to date. In particular, Nguyen acknowledged the tech giants role in Vietnam becoming a "surplus country and the only ASEAN country to achieve positive growth in the context of the widespread COVID-19 epidemic."
Business has boomed for tech manufacturers as pandemic-related work-from-home booms created demand for smartphones and computers. Samsung did not miss out on that boom: the company reported a new all-time Q1 revenue high of 65.4tr won (US$59bn) last week for Q1 2021 and was listed by IDC as the top smartphone manufacturer of Q1 2021 with 21.8 percent of global market share. ®