This article is more than 1 year old
The Wight stuff: Marconi and the island, when working remotely on wireless comms meant something very different
Planning a post-lockdown trip to the isle off England's south coast? Don't miss the interesting bits
Geek's Guide to Britain Guglielmo Marconi is famous for sending the first transatlantic wireless signal from Cornwall to Newfoundland, with his two radio stations on the Lizard peninsula covered by a previous Geek's Guide. But he worked up to this achievement on the Isle of Wight, the England-in-miniature that lies just off the south coast of Hampshire.
Marconi's Needles wireless telegraph station existed for just two and a half years, but its location on Alum Bay at the west end of the Isle of Wight is marked by a built-for-the-ages stone monument. Plaques on each of its four sides tell the story of how between December 1897 and May 1900 the Italian tech entrepreneur and his staff carried out pioneering experiments in wireless communication.
They exchanged radio messages with Bournemouth and Poole, 14 miles (22.5km) and 18 miles (29km) away respectively, then ships 40 miles (64km) away. On 3 June 1898, Lord Kelvin helped monetise the technology by sending the first paid-for radio telegram. On 15 November 1899, the contents of the Transatlantic Times, the first newspaper produced at sea, were sent from here to the American liner St Paul.
The station was actually a sitting room at the Royal Needles Hotel with a hole drilled through its window connecting the kit to a 168-foot mast outside. The hotel, window and mast have gone, replaced by the Needles Landmark Attraction, a collection of rides, sideshows and shops next to an enormous car park. Marconi's monument is tucked into a corner of the site, surrounded by a semi-circular stone bench and a platform looking across the Solent towards Bournemouth and Poole.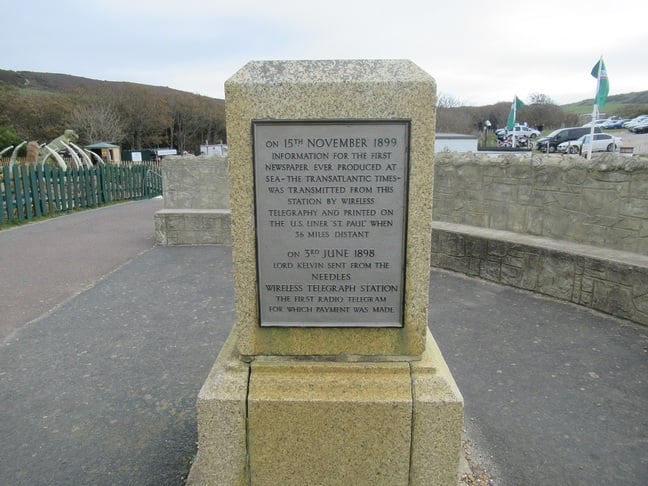 Above and below: We never said it was dignified. Marconi memorial with dinosaur in background (Pics: © SA Mathieson)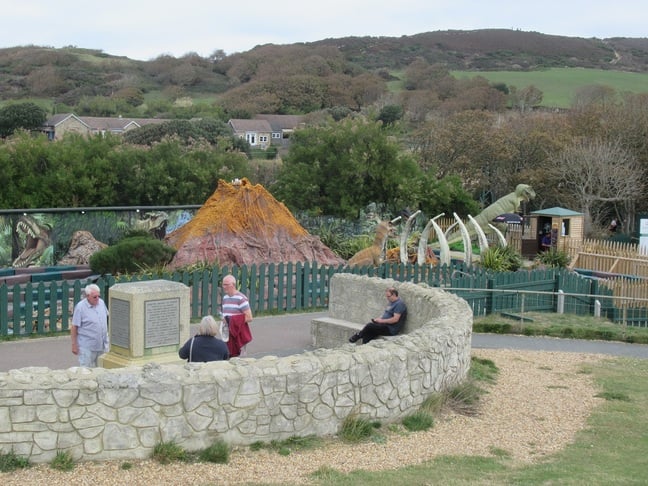 Its dignity is arguably undermined by the proximity of a tea cup ride, a dinosaur-themed crazy golf course and the Dino Jeep Safari, which features regular smoke eruptions and roars that sound disconcertingly like Jurassic farts. But Marconi had a streak of the fairground barker in him. He worked hard to develop wireless technology, from initial experiments at his childhood home near Bologna in 1895 to his epoch-making transatlantic signal in 1901. He worked at least as hard to promote, organise and commercialise radio telegraphy. Marc Raboy, in his 2016 biography, describes him as "the consummate networker… Marconi's greatest invention was himself."
Hobnobbing with royals and a helping hand to the hacks
Alum Bay was the site of several examples of self-promotion. In January 1898, Prime Minister William Gladstone, whose health was failing, was in Bournemouth pursued by death-watch reporters. A snowstorm cut the telegraph lines to the resort so Marconi set up a wireless link across the Solent to Alum Bay, which had telegraph links, to help the gentlemen of the press. In the event Gladstone survived Bournemouth, dying that May in northeast Wales.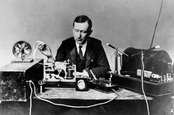 Marconi: The West of England's very own Italian wireless pioneer
READ MORE
The Isle of Wight also let Marconi link up with the royals. Queen Victoria spent much of her time at Osborne, a spectacular Italianate palace she and her husband Prince Albert had rebuilt decades earlier, which is now open to the public.
In summer 1898, her son the Prince of Wales got Marconi to set up a wireless link between his yacht and Osborne so he could send Her Majesty updates on the state of his injured knee. "HRH the Prince of Wales has passed another excellent night and is in very good spirits and health. The knee is most satisfactory," ran one deeply personal communication.
The Needles Landmark Attraction is fun and its Marconi's Licensed Tea Rooms includes vintage radios and information about his life. But it is easier to understand the value of Alum Bay from either its beach – reached by steps or a chairlift – or from the Needles headland, a decent walk uphill from the car park. Both have superb views of the Hampshire and Dorset coasts, including of individual buildings in Bournemouth, which seems less distant than its actual 14 miles (22.5km).
But even from the top of the headland you can't see the Lizard in Cornwall, some 180 miles (289km) away and well below the horizon. If wireless needed a line of sight to work, Marconi would have needed a mast several miles high – and that is what makes what happened next so important.
Working remotely
In 1900, with the proprietor of the Royal Needles Hotel wanting to increase his rent, Marconi moved operations to Knowles Farm at St Catherine's Point, the southernmost tip of the Isle of Wight.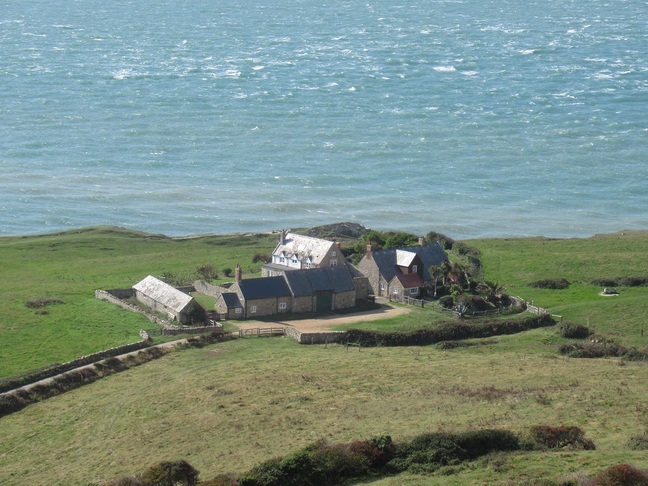 Knowles Farm from the north (Pic: © SA Mathieson)
The most direct route, the Military Road along the southwest coast, is the island's answer to California's Highway One, with dramatic cliffs and awesome beaches such as Compton Bay. Plus, it has a shop selling pearl jewellery and really good cream teas.
After about 15 miles (24km) and a steep hill, Military Road reaches the quiet village of Niton, with St Catherine's Point just to the south. There is neither chairlift nor direct road access to the site unless you decide to rent Knowles Farm from the National Trust for a holiday.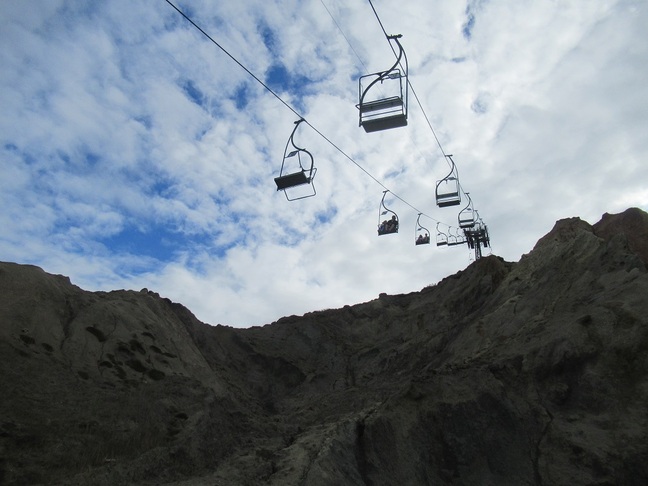 Alum Bay – chairlift to beach (Pic: © SA Mathieson)
There is a free Trust car park at the end of Old Blackgang Road up the hill with a circular trail taking in the farm while those taking the bus should get off at the Buddle Inn stop. In both cases, expect a pleasant walk down and a steep hike back up.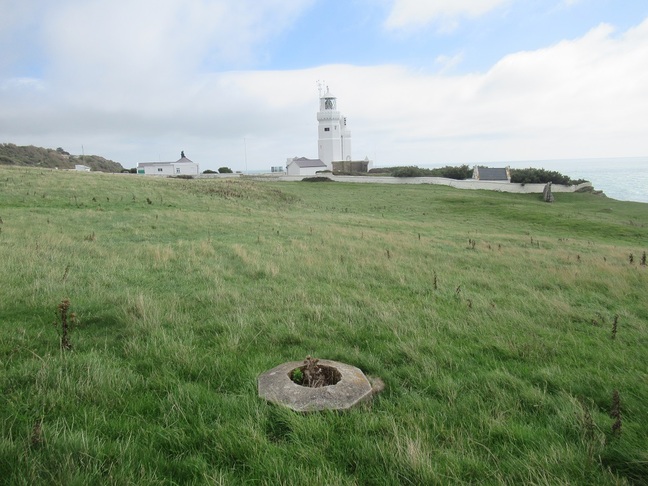 Knowles Farm – Marconi aerial base with St Catherine's lighthouse in background (Pic: © SA Mathieson)
Knowles Farm is a peaceful, if windswept, place by the sea and the island's only onshore lighthouse. It was here that Marconi beat the horizon, making wireless communication something that could cross oceans, when at 4:30pm on 23 January 1901 he successfully transmitted a signal that was picked up by his Lizard station after bouncing off the ionosphere.
The achievement is recorded by a National Trust sign and a stone plaque built into the landward side of one of the farm buildings. It is also noted by one having the name "Marconi Cottage", incongruously illustrated by a badger. But if you want to find the exact place where it happened, you will need to search in a field just to the south, between the buildings and the coastline.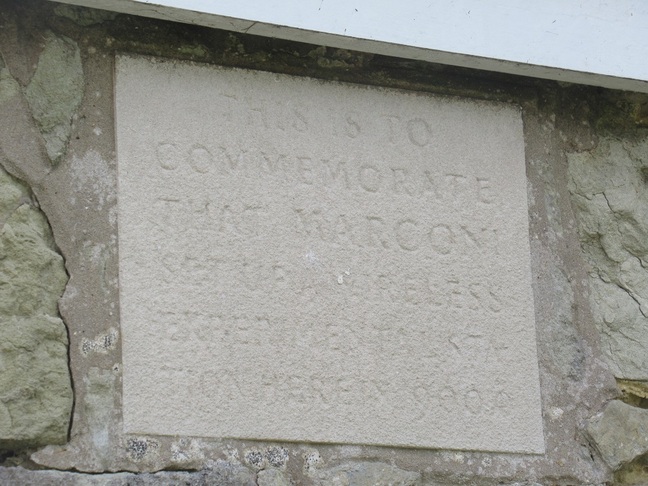 Marconi stone plaque on farm building (Pic: © SA Mathieson)
The mast was chopped down in the 1920s, apparently to make ladders, but the concrete base of Marconi's aerial remains. It isn't signed but it is fairly easy to find: about a metre across and octagonal in shape with weeds growing out of its middle. It lacks a stone monument, a car park or a dinosaur ride, but it is in this corner of a seaside field that wireless really took flight.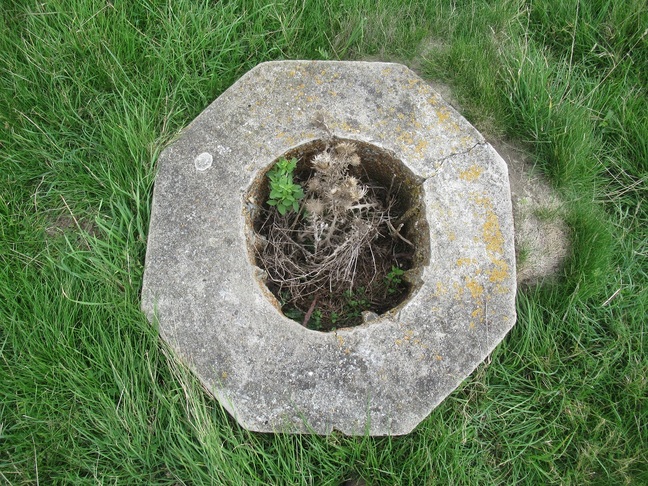 Knowles Farm – Marconi aerial base (Pic: © SA Mathieson)
Getting to the Isle of Wight
The most convenient ferry for the west of the Isle of Wight goes from Lymington. There is a 10-minute train service connecting Brockenhurst station (90 minutes from London Waterloo, also served by CrossCountry trains from Birmingham and further north) to Lymington Pier, right next to the ferry terminal. Lymington can also be reached via the B337, a scenic and sometimes very congested road from the M27 motorway through the New Forest.
From Lymington, ferries to Yarmouth take about 40 minutes.
Fares vary widely depending on time and date but often exceed £100 return for a car, making the island an expensive daytrip although discount codes are often available.
Alum Bay
GPS 50.668, -1.568 for the Marconi monument
Postcode PO39 0JD
Getting there
By bus: Southern Vectis's number 7 bus service takes 30 minutes to get from Yarmouth's ferry terminal to the Needles Landmark Attraction.
By car: From Yarmouth ferry terminal drive west on the A3054, then southwest towards Alum Bay on the B3322. Needles Landmark Attraction is at the end of the road, just over four miles (6.4km) from the ferry. In autumn 2020, all-day parking cost £6 or £4 for National Trust members.
Entry
There is no charge to visit the Marconi monument and the Needles Headland. The chairlift to the beach costs £6 return (£9 for a couple if you buy a book of supersaver tickets, which covers two returns).
Other things to do nearby
The old and new Needles Batteries, run by the National Trust, are a short walk away and are covered by a separate Geek's Guide. Tennyson's monument, about a mile (1.6km) west of Alum Bay, has superb views in all directions.
St Catherine's Point
GPS 50.576,-1.3 for Marconi's aerial base 50.5805, -1.303 for National Trust car park
Postcode PO38 2NP for Old Blackgang Road (follow road to end for National Trust car park)
Getting there
By bus: Southern Vectis's number 7 bus service takes about 25 minutes to get from Yarmouth ferry terminal (or about 55 minutes from Needles Landmark Attraction) to Cedar Hill in Carisbrooke. From there, the number 6 bus to Ventnor takes about 35 minutes to get to the Buddle Inn in Niton, although you might have to wait a while for a connection.
By car: from either Yarmouth or Alum Bay, head to Freshwater then take the A3055 Military Road southeast along the coast. At Niton, turn south for Niton Undercliff and drive around a clockwise one-way loop past the Buddle Inn. Ignore the access-only left turn for St Catherine's lighthouse and take the next left, Old Blackgang Road. It isn't signed, but at the end of this narrow road is a free car park with paths down the hill.
Entry
Free.
Other things to do nearby
The charming and extraordinarily steep seaside resort of Ventnor is five miles (8km) to the east, with a coastal walk to the village of Bonchurch that features a scaled-down stroll past the planets of the solar system.
Carisbrooke Castle, a site about 18 miles (29km) north run by English Heritage, is arguably the most important historical site on the Isle of Wight – King Charles I tried to escape three times – and for bus travellers it is a short walk from where you are likely to change. ®