This article is more than 1 year old
JET engine flaws can crash Microsoft's IIS, SQL Server, say Palo Alto researchers
Trio claim database queries can lead to remote code execution
Black Hat Asia A trio of researchers at Palo Alto Networks has detailed vulnerabilities in the JET database engine, and demonstrated how those flaws can be exploited to ultimately execute malicious code on systems running Microsoft's SQL Server and Internet Information Services web server.
The team also said Microsoft dismissed some of their findings as not worthy of a fix.
In a talk today at Black Hat Asia titled Give Me a SQL Injection, I Shall PWN IIS and SQL Server, the three explained they found the JET engine – for years an underlying tech for Microsoft Access and other products, and still downloadable today – has many vulnerabilities. We've previously reported on such holes.
Senior principal researcher Tao Yan, principal researcher Qi Deng, and senior distinguished engineer Bo Qu explained it is possible to configure JET to access and query remote databases.
While JET was not designed to do so, the researchers showed that it's possible to designate JET as a "related provider" to SQL Server.
Tao said access to the databases also requires what he called a "hidden" method that involved combining SMB and WebDAV. That combo can also be used to create files on IIS and SQL Server hosts.
Once JET and SQL Server are linked, and the SMB/WebDAV connection made, JET users can send queries to SQL Server. If those queries happen to be SQL injections, they can ultimately crash the SQL Server, or worse. The team demoed that and similar SQL injections taking down Internet Information Server.
"You can get remote system privileges with only an SQL injection," Tao declared.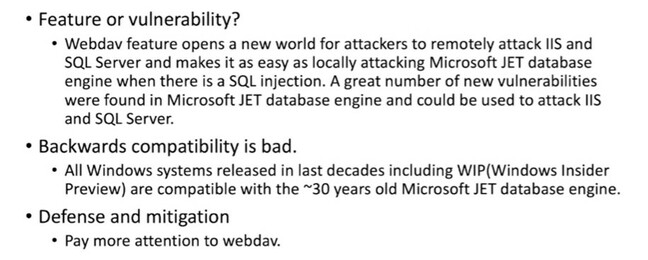 The trio's advice ... Pay attention to WebDAV. Click to enlarge
The researchers said they shared their work with Microsoft, and the software giant has rebuffed them on the grounds that the problems identified do not cross a defined security boundary.
Tao found that concerning, given that millions of devices already running JET have the potential to be used for evil.
Tao said the three believe Microsoft will eventually patch JET, and they will withhold details of their findings until such remedies arrive. He added he has no firm indication of when the Windows titan plans to deliver such a fix. ®