This article is more than 1 year old
Facebook: Nice iOS app of ours you have there, would be a shame if you had to pay for it
Antisocial giant insists 'Help keep FB free of charge' messaging is merely educational
The number of Facebook and Instagram users on iOS agreeing to be tracked by the social networking behemoth for targeted ads has fallen drastically in the week since Apple's iOS 14.5 debuted – and Zuck & Co have hit back.
The App Tracking Transparency framework in iOS 14.5 requires companies to ask permission to observe the activities of iOS app users – that is to say, to link application usage and data with user or device information collected from other sources for targeted advertising or analytics.
This opt-in regime looks to be an extinction event for the current incarnation of targeted advertising, on iOS at least. According to analytics biz Flurry, only about 12 per cent of iOS users worldwide and only four per cent in the US have decided they want to be tracked.
That disinterest in data surveillance has been anticipated for months. Facebook began warning ad buyers about the impact of iOS 14.5 last August and in December launched a campaign claiming Apple's unilateral privacy clampdown would hurt small businesses.
In April, with the launch of iOS 14.5 imminent, Facebook warned investors about potential "ad targeting headwinds." And the social ad biz has reportedly been preparing for a possible antitrust case against Apple's unilateral ad business limitations. Such cases have already been filed by media companies in France and Germany.
To gin up interest in being tracked, Facebook has been presenting users of its iOS Facebook app and its iOS Instagram app with a popover action sheet alerting users to Apple's newly implemented tracking restrictions and advising them that if they enable tracking, they can "Help keep Facebook free of charge."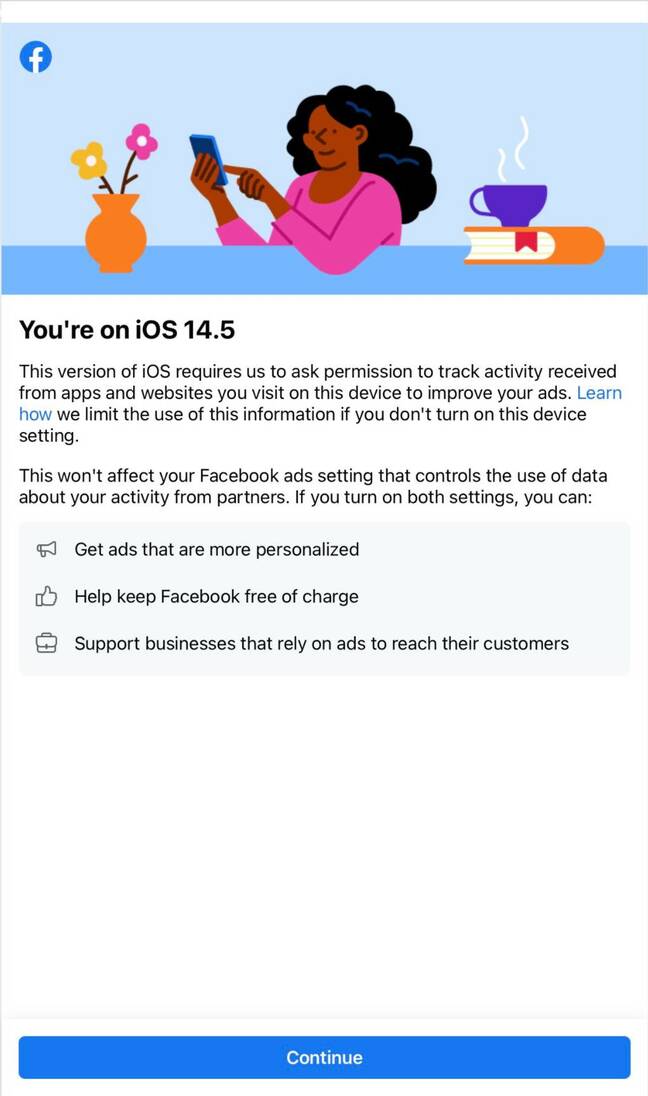 The message Facebook shows to users ... Click to enlarge
Don't panic
The Register understands Facebook has no plan to begin charging for its services – a possibility teased in email scams that Facebook has repeatedly dismissed.
And if Facebook did decide to charge a subscription fee, it would probably receive an injunction from the US Federal Trade Commission (FTC) for misrepresentation. As Ashkan Soltani, a privacy researcher and former technologist for the FTC, pointed out recently, up through August 2019, Facebook on its Sign Up webpage said, "It's free and always will be."
In a statement emailed to The Register, a Facebook spokesperson characterized its iOS interface copy as educational messaging, which Apple allows.
"At Facebook we use data to provide personalized ads, which support small businesses and help keep apps free of charge," Facebook's spokesperson said. "As Apple has said that providing additional context is allowed, we are showing an educational screen before presenting Apple's prompt to help people make an informed decision about how their information is used."
"It provides more details about how we use data for personalized ads, as well as the ways we limit the use of activity other apps and websites send us if people don't turn on this device setting. Our screen also lets people know that they're seeing Apple's prompt due to Apple's requirements for iOS 14.5."
The Register asked Soltani whether privacy regulators might conceivably see Facebook's hint about the possibility of future fees as a dark pattern, a topic of current concern at the FTC.
"I think Facebook's language could be seen as coercive but I think it would be difficult for a regulator to be able to enforce it as deceptive or a dark pattern," he said."'Help to keep Facebook free of charge' isn't a direct threat. Nor is it illegal to ask a user to pay for a service if they opt-out of the sharing of their personal information."
The Register asked Facebook whether its educational campaign about the benefits of tracking had prompted more people to opt-in, but the company's spokesperson didn't have any data available to share. ®