This article is more than 1 year old
For the marketeer that has everything – except a CPU fan
You know it's time for an upgrade when your PC gets spanked by a sign
Bork!Bork!Bork! The mean streets of Birmingham in England's West Midlands are our destination today, with an entry in the bork archive reminding us of the raw power of signage.
We at the bork desk often scratch our heads at why Microsoft Windows is used to power something as simple as a digital sign. While Windows itself is not at fault in this example of borkage spotted by a Register reader, the hardware within seems a little at odds with what is a jumped-up version of what used to be done with a bit of paper and paste.
Seen this week on Birmingham's Corporation Street (the bit with the tram tracks, just up from Poundland), we'd suggest this technological marvel cost a bit more than the average selling price of the product on sale from the shop next door. 16GB of memory, a 10th-generation Intel i7 chip and a 250GB NVMe PCIe SSD. Quite an impressive bit of kit is sat behind the screen on the street.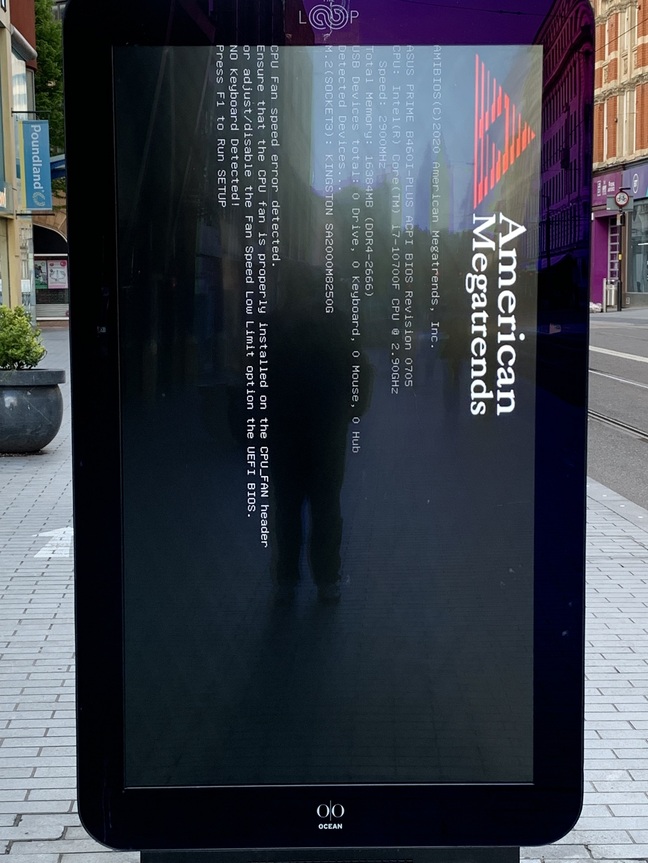 Click to enlarge
The only thing missing is a keyboard with which to press F1 and deal with the CPU fan issue that appears to have befallen the poor thing.
Because even though that i7 uses less power than some of its hungrier brethren, it still needs a fan to keep things cool. Far be it from us to wonder exactly what sort of software stack requires such power in order to populate that 84-inch screen.
The screen itself looks to be one of Ocean Outdoor's "Full Motion city centre pedestrian networks".
"A unique model for buying DOOH media," the site breathlessly intones, "The Loop is planned and bought flexibly online by demographic, day part or hour."
Or borked by the hour, unless American Megatrends International was seeking to remind pedestrians what really lurks at the heart of its PCs. We have our doubts.
Naturally, we contacted Ocean Outdoors for an explanation and will update should one be forthcoming.
In the meantime, we can only speculate on the wonders on offer that require that level of chippery behind the scenes. A quick bit of sideways Sea of Thieves, anyone? ®