NASA has slapped its worm logo on the side of the Crew Module Adaptor (CMA) for the Orion spacecraft as the first Artemis mission to the Moon inches closer.
The logo had already been stuck on the underside of the CMA last year, but sticking it on the side will ensure it is visible once the Orion spacecraft and its European-built service module are stacked atop the Space Launch System (SLS) rocket and wheeled out to Kennedy's pad 39B.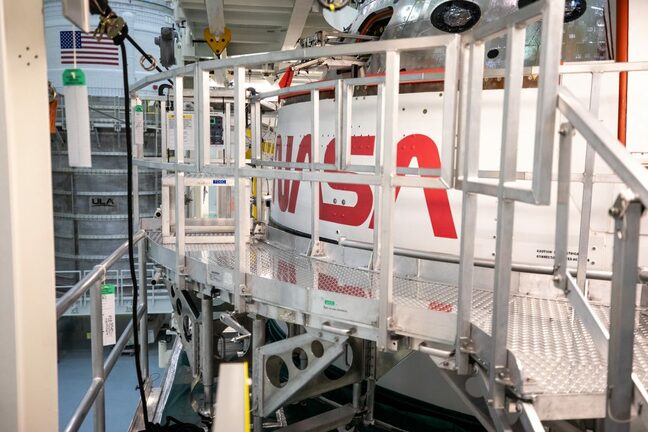 NASA logo on Orion module (NASA/Glenn Benson)
The worm also adorns the solid rocket boosters of the SLS just in case, you know, you were in any doubt as to the operator. Look carefully, and you'll also be able to spot the ESA logo as well as NASA's original "meatball".
Things are trundling forward for NASA's hugely delayed and hugely overbudget Moon rocket. The Orion spacecraft and the Interim Cryogenic Propulsion Stage (ICPS) are currently being fuelled and serviced ahead of Orion's integration with its launch abort system and the ICPS's move to the Vehicle Assembly Building (VAB) for stacking on the mobile launcher.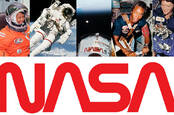 NASA's classic worm logo returns for first all-American trip to ISS in years: Are you a meatball or a squiggly fan?
READ MORE
The Core Stage of the SLS finally arrived, via barge, at Kennedy Space Center late last month after completing the Green Run tests at Stennis Space Center in Mississippi. The Core Stage is to be hoisted vertical and attached to the solid rocket boosters already stacked atop the mobile launcher within the VAB.
The "Worm" logo itself was created in the 1970s, as the Apollo era came to an end, and was retired in 1992. It famously made a return in 2020 as the agency resumed human spaceflight from US soil courtesy of SpaceX. Unlike NASA's SLS, the Falcon 9 booster it adorned has seen repeated reuse by SpaceX. The SLS, on the other hand, will be dumping its ex-Space Shuttle engines into the ocean.
As for a launch date, NASA continues to stick to 2021, possibly November, although a slip to 2022 seems likely based on past form. As for the 2024 goal to land humans on the Moon? Probably best not talk about it too much these days lest the lawyers hear. ®
Similar topics