Staying in the UK this summer? Good news: Temples of IT nerdery are reopening
Computer museums set to be unbolted again
As the UK enters the latest stage of lockdown easing, The Reg can confirm that The National Museum of Computing and the Centre for Computing History will be reopening imminently.
It is heady stuff, although both temples to computing nerdery are taking things slowly after a lengthy enforced closures.
The Centre for Computing History is to be first off the mark and will be opening its doors for this coming weekend: 22 and 23 May. The following two weekends will also see punters invited in to prod at all manner of classic hardware. What happens after that, frankly, depends on how it all goes.
Space bar
One of the delights of a visit to the Centre for Computing History is the hands-on exhibits. How to maintain the interactivity while satisfying the restrictions of the COVID-19 pandemic has presented a challenge. To this end things have been spaced out, and controllers and keyboards made easy to wipe down. Customers will be encouraged to stick to their own social bubbles and fight the urge to lean over the shoulders of those occupying the hardware on display, no matter how enticing that game of Jet Set Willy might look.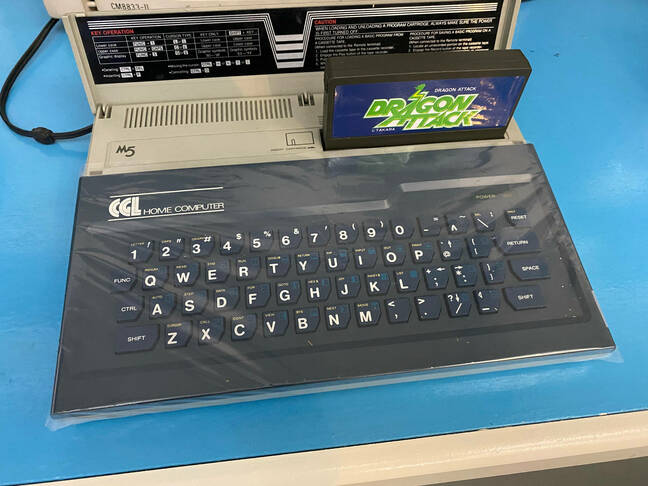 A CGL M5, complete with keyboard condom: The Sord M5 was a Japanese home computer launched in 1982. It was distributed by CGL (Computer Games Limited) in the UK from 1983, and rebranded as the CGL M5
Some stuff, sadly, won't be usable. The Virtual Reality exhibit (requiring the wearing of a headset) won't be available just yet, and nor will the pixel wall. On the plus side, there will also be no one-way system.
Next Friday, it's TNMOC time
The National Museum of Computing (TNMOC) will then re-open on Friday 28 May – after months of virtual events, talks and online guided tours. Sadly, in-person guided tours and group bookings aren't currently available and, like the Cambridge-based Centre for Computing History, tickets must be pre-booked (so no pitching up in the hope of some ad hoc geekery.)
Located on the Bletchley Park estate, near Milton Keynes, the museum famously contains a reconstruction of the Turing-Welchman Bombe (the electro-mechanical device used to decrypt Enigma-encrypted Axis power comms in WWII), and a rebuild of Colossus, used to break the Lorenz cipher used by the German Army during the war.
The museum also has a selection of room-sized metal in the form of the likes of 1960s Elliott and IBM hardware as well as a monster ICL. Other galleries highlight the personal computer era from the 1970s onward.
The nature of the museum means a one-way system will have to be in place for the time being but, as had been our experience at other museums, it is no bad thing when it comes to not missing anything on a tour.
As the UK edges a little closer out its lengthy lockdown, we are delighted to note the impending reopening of both institutions. We'll be paying a visit to both over the summer and will report back on what has changed and what has remained the same since we were last there. ®