Are you ready to take a stand? Flexispot E7 motorised desk should handle whatever you dump on it – but it's not cheap
Sitting is as bad for you as smoking, and doesn't look nearly as cool
Review Sitting, we're told, is the new smoking. The catastrophic health consequences of hours spent hunched behind a desk are said to include heart disease, colon cancer, and muscle weaknesses.
Your dreary 9-to-5 IT job might as well be a 20-pack of Gauloises, for all the good it's doing you. Or you could get a standing desk.
Standing desks allow workers to use their IT kit from both standing and sitting positions, alternate their posture throughout the day, and thus potentially stave off a fearsome collection of maladies. But they ain't cheap.
Just look at the the Flexispot E7. This motorised sit-stand desk costs £399.99 for the legs alone. Add in a desktop surface (which you'll want to do) and you're spending between £479.99 and £519.99.
Let's talk about the most essential component of a standing desk: the motor. This raises the desktop into the standing position and lowers it back down when your legs get tired. This is the biggest weakness with cheaper standing desks, which often lack the physical oomph to lift the myriad monitors and speakers found on the typical workplace battlestation.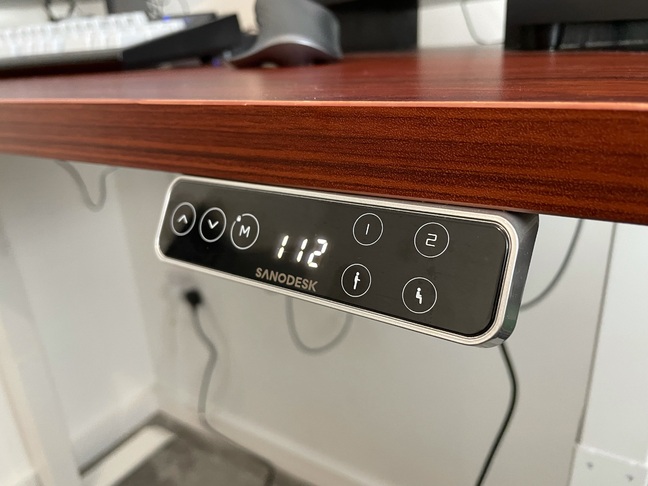 Flexispot E7 control panel
Other budget options force the user to physically raise the platform, either by using a hand crank, as is the case with the Ikea SKARSTA, or by manually pulling it up, as we saw in 2020 with the Varidesk Pro.
The motor used in the Flexispot E7 is surprisingly capable, although you'd expect as much for the price.
My cluttered workstation contains two monitors (a 28-inch ASUS ultrawide and a 32-inch Samsung curved display), a desktop PC (albeit a lightweight Intel NUC), a 2:1 speaker system, a surprisingly heavy Samson G-Track Pro condenser microphone, as well as the usual obligatory peripherals. The Flexispot raises these with ease. There's none of the telltale stuttering or sluggishness you'll find with wheezier motors.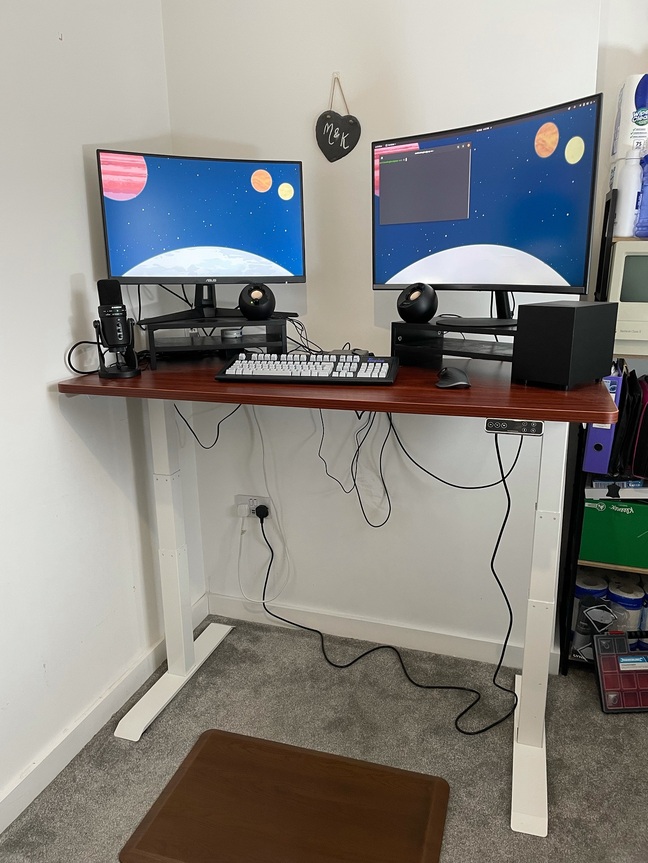 Disgusting cable management
And the range of heights offered is surprisingly good. At its tallest, the desk reaches 126cm. You can also lower it to 60.5cm, for the times when you want to work cross-legged. You can also set your preferred heights through the included control panel, making the transition from sitting to standing feel that bit less fiddly. And there's a child lock, which may be handy for parents of inquisitive kids.
Flexispot offers a variety of worktop sizes and shapes, from standard rectangles to those with a slight curve. I opted for a standard rectangular model measuring 140x70cm, which has a decent amount of room and allows me to fill it with all the accoutrements of work-from-home tedium without things feeling cramped.
But when it came to setup, the Flexispot E7 was a mixed bag. On one hand, the lower chassis was really straightforward to assemble, requiring just a handful of common screwdrivers.
Installing the desktop was similarly easy, with just one screw type needed. It did, however, require the use of a drill. As mine had died, and I couldn't find the charger, I was forced to borrow a neighbour's. The desktop is made of a lightweight MDF material, and I didn't need to apply much force to get the screws in place. During the time I've used it, it's proven resilient to scratches and coffee rings.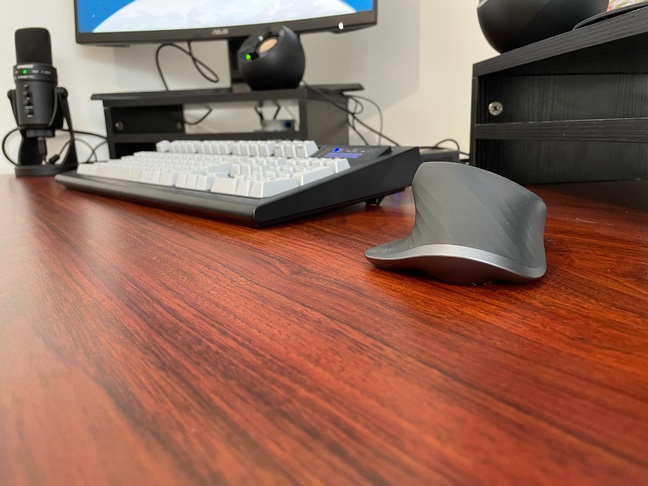 Finish closeup
Sadly, the instructions left a lot to be desired. Long story short, the steps you need to follow vary depending on the size of the desktop chosen. Flexispot didn't really do a good job of making this clear. Additionally, stretching the lower half to accommodate my larger work surface was a bit tedious, and required the application of generous amounts of WD-40.
Since then, it's been smooth sailing, with few issues to speak of. The company also offers a five-year warranty, which I fortunately haven't been forced to avail myself of.
I'll admit, there's something quite pleasant about working from a standing position. You'll notice that, over time, those subtle little aches in your lower back start to fade.
But it takes a lot of getting used to. Your first few days using the standing desk won't feel comfortable. That's not an indictment of the E7 – it's just a fact.
You're using neglected muscles and holding a posture that you don't normally take. These will fade over time, and you can mitigate against the pains in your calves by investing in a decent anti-fatigue mat. These cost anywhere between £20 and £40. ®