This article is more than 1 year old
Déjà bork: BSOD fairy pays key-cutting kiosk another visit
Lessons have been learned – now there's a bucket for Windows to be poorly into
Bork!Bork!Bork! A déjà vu of the borked variety landed on our desk today as another automated key-cutting machine housed in a Do-It-Yourself emporium shows its true colours: white on blue.
The stricken system was spotted by Register reader David in the lovely Cambridgeshire town of St Neots. The town's growth over the years has meant the inevitable arrival of Do-It-Yourself (DIY) superstore B&Q and a (now borked) machine to cut keys.
Those feeling like they've seen this snafu before would be right. A sibling of the machine in a Huddersfield B&Q outlet featured in these very pages last year showing a disturbingly similar error. A spokesperson for the Keighley-based My Key Machine supplier of the borked box told us that an engineer had been dispatched to deal with whatever hardware fault had occurred.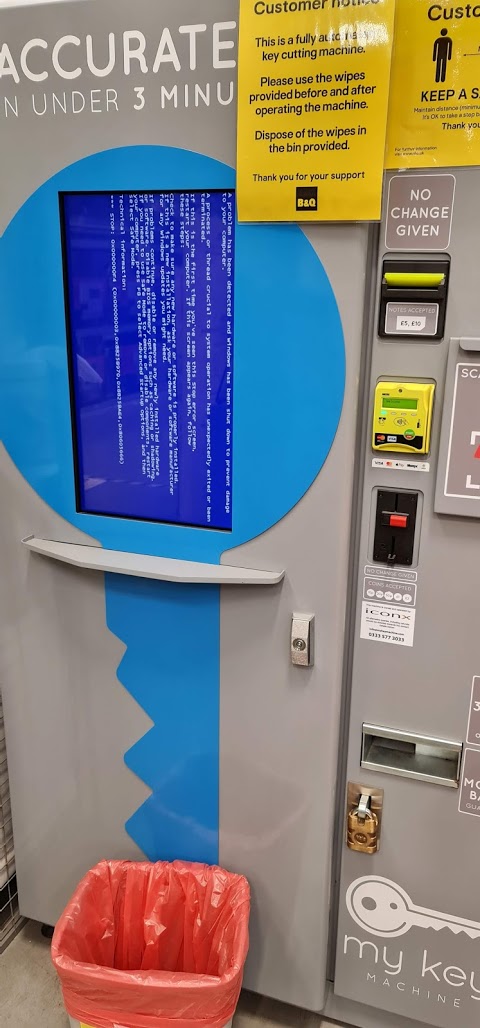 Click to enlarge
Certainly, a remote recovery from a BSOD can present a challenge unless one has an extra long finger with which to jab the reset button (or perform the hardware equivalent).
The difference this time is that a thoughtful member of staff, doubtless concerned for the poorly machine's welfare, has left a bucket in front to catch whatever Windows vomits up from the depths of its memory dump (while OS/2 holds its hair back and says something soothing).
Judging by the sheer bloat of Windows nowadays, one would probably need a bigger bucket. Fortunately, that BSOD is an indicator of earlier, leaner versions.
As for the error itself, it's another 0x000000F4 hinting at either duff hardware or misbehaving software. As the saying goes: to have one kiosk fail is unlucky. To have two drop over… well, very unlucky.
It's a bit of shame since the My Key Machine is an impressive bit of kit and saves customers from the hassle of having to deal with actual humans when getting keys cut. While the devices don't need an internet connection at their location, the team behind it can fiddle with things thanks to an onboard SIM.
Assuming the bork fairy has not paid another visit. ®