This article is more than 1 year old
Samsung shows off rollable and foldable displays, suggests they'll arrive in 2022
Paper-thin OLED screens collapse impressively
Vid 'n' pics Samsung has revealed foldable and rollable displays at the Society for Information Display (SID) annual exhibition.
Organic light-emitting diodes are the key to the new devices, because displays built using the tech don't need a backlight. The result is paper-thin and flexible panels.
Samsung's star item was the "S-foldable" smartphone screen that it showed off in a device that resembled a conventional rectangular smartphone that includes two hinges. When either one or both were unfolded, the device's screen "grew" to a maximum of 7.2 inches. A thick bezel on the side unfolded to reveal front-facing cameras and gives the user a handgrip.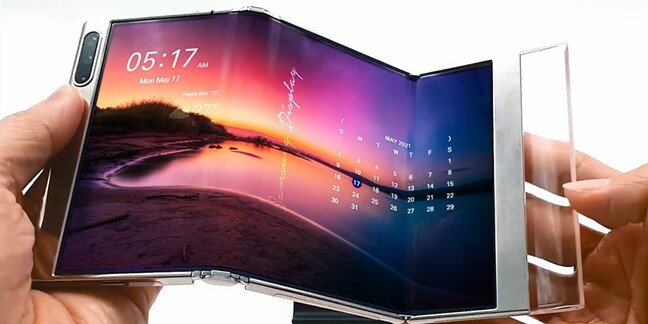 Samsung's foldable screen. Click to enlarge
Samsung also showed off a slidable smartphone screen. The screen gradually extends the viewable field horizontally from standard smart phone size by several millimetres with the press of a button.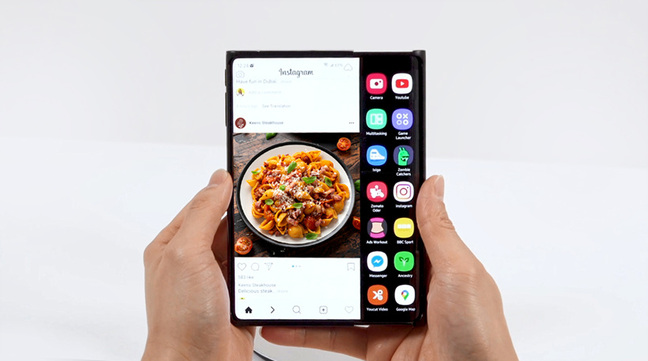 Samsung's slideable. Click to enlarge
Another OLED product at Samsung's virtual hall was a 17-inch foldable screen that started off at tablet size, then folded out to a small monitor offering a 4:3. Samsung offered the handy descriptive slogan "Carrying Small Seeing Big."
For notebooks, Samsung presented an under-panel camera that maximizes a screen from edge to edge by minimizing the bezel and places a camera underneath the display. No word yet on the camera quality.
The four products are in concept stage and expected to be available next year.
The Samsung Display YouTube channel featured a marketing video for a better idea of the products:
Samsung wasn't the only company to present rolling displays at SID 2021. LG Display had a 65-inch rollable OLED TV, a 12.8 inch rollable display among their products. China's Visionox showcased OLED rollables as well. ®