This article is more than 1 year old
Pics or it didn't happen: First images from China's Mars rover suggest nothing has gone Zhurong just yet
Probe's cams show red planet's surface while clips capture descent
The China National Space Administration (CNSA) has released images and video snapped during the landing process and checkout of its Zhurong Mars rover.
The rover made a successful landing on 15 May but, unlike the white-knuckle livestreams of NASA, very little information has been shared since. Certainly nothing like the imagery that was sent back to Earth following the arrival of the Perseverance rover.
Two images released by CNSA, one from the front obstacle avoidance camera and the other from a navigation camera, show the rover looking in good health. The solar panels and antenna have been successfully deployed and the ramp to be used to descend to the Martian surface is clearly visible.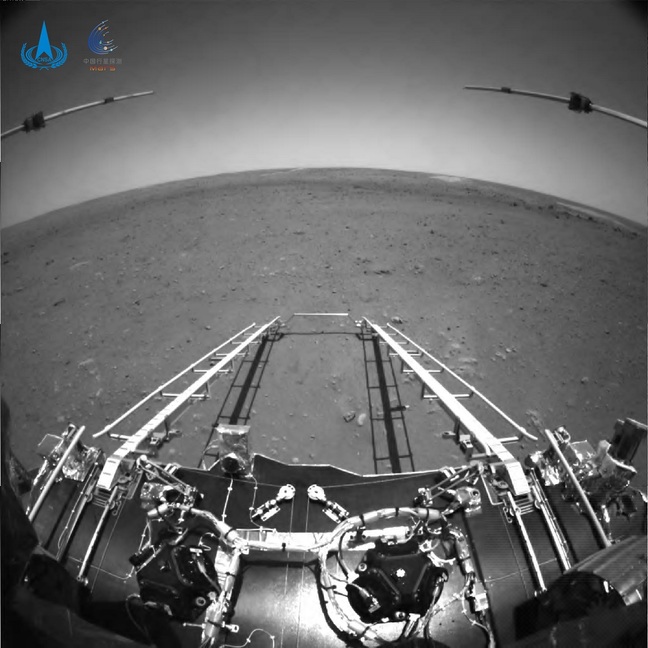 Click to enlarge
Also visible were two sub-surface radar rods.
The CNSA also shared video clips from the orbiter showing the lander departing for Mars.
China is only the third nation to have successfully managed a soft landing on Mars after the Soviet Union and United States. It is also the first nation to land a Mars rover on its first attempt. "At present," said CNSA, "the rover is carrying out preparations for leaving the landing platform, and will select an opportunity to drive onto the surface of Mars."
Following the successful landing, the orbiter portion of the Tiawen-1 mission fired its thrusters once again to enter what the CNSA called "the relay communication orbit" to relay data back from the rover and send on the images.
The solar-powered Zhurong rover is designed to last for 90 Sols. There is every chance it might endure far longer; China's Yutu-2 lunar rover has exceeded its designed lifetime by years and NASA's famously long-lived Opportunity rover reached its teenage years before a dust storm did for it.
First, however, Zhurong must trundle down that ramp to get up close and personal with Mars. ®