Unihertz Titan Pocket: Like asking Mum for a BlackBerry and she tells you 'but we've got a BlackBerry at home'
Caters to those desperate for a physical keyboard but nothing about it is intuitive
Review The Unihertz Titan Pocket – a small ruggedised Android 11 phone with a physical QWERTY keyboard – is a bit like when you ask your mum to buy you a Big Mac meal from McDonald's and she instead makes you one at home. Sure, it might be a great burger, but it's not the same.
For starters, the Unihertz Titan Pocket comes from a completely different place. BlackBerry (formerly RIM) was primarily concerned with building work devices. In practice, that meant an OS filled with business-centred apps, and an overarching emphasis on security and encryption.
Unihertz has a fundamentally different business model. It makes weird phones (like a 4G blower the size of two cigarette lighters and an Android-powered BlackBerry Passport clone, to name just two.) There's no mass-market appeal to its phones, and it's entirely fine with that. All of its devices debuted on crowdfunding sites.
Hands on – both of them
That notwithstanding, the dimensions and design of the Titan Pocket are fairly evocative of the BlackBerry Bold.
You get that same awkward square screen (measuring 3.1 inches across, with a resolution of 712x720), which doesn't really quite mesh with how apps are built in 2021.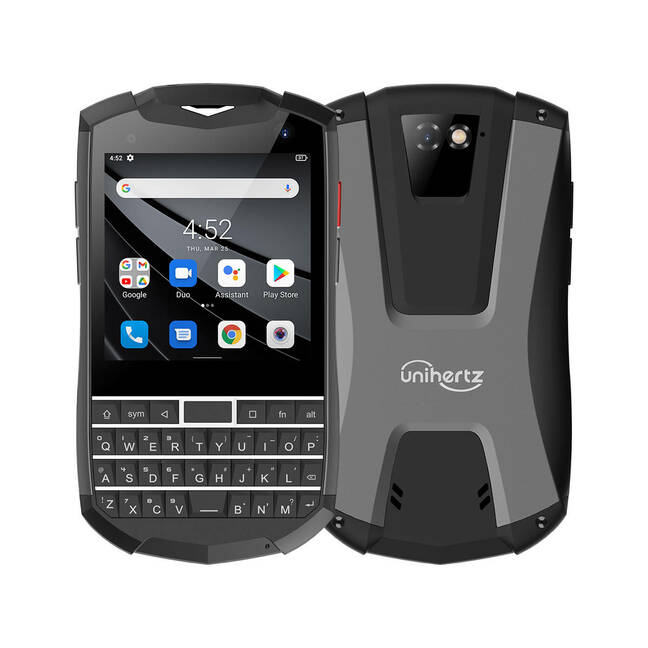 It's unapologetically chunky with the ruggedised chassis providing a degree of heft that wouldn't feel out of place in 2009. At its thickest point, the phone measures 1.68cm, over double that of the iPhone 12. Despite that, it's not too heavy, weighing 216g.
The chassis is constructed out of a sturdy metal, accompanied with a thick rubberised trim on the top and bottom of the device. Extending across the corners, this should absorb some of the kinetic abuse when accidentally dropped.
Unihertz has also cribbed the iconic BlackBerry flashing LED, which informs the user when a new email or message has arrived by emitting a gentle pulsing light.
There's a fairly responsive fingerprint reader in the place where a trackpad would traditionally sit. Meanwhile, the sides are adorned with a handful of physical buttons, including a volume rocker, a power button, and a configurable red button that defaults to the flashlight.
Our review device didn't have the capacitive scrollpad enabled, although it has been promised on the Titan Pocket's kickstarter page.
And yes, there's the keyboard, which is all but absent on today's handsets.
Pushing my buttons?
Evaluating any physical mobile keyboard in 2021 is hard. Our brains are just too attuned to the virtual equivalents. The muscle memory we once had has been forgotten.
If you come to the Titan Pocket having spent the past decade using Galaxies and iPhones, you'll initially find typing to be a frustrating and unfulfilling experience. You need to persevere.
Unihertz has managed to faithfully replicate the concave curvature of the original BlackBerry keycaps, which makes long stretches of typing feel comfortable. The keys themselves feel sensational to press, with a mechanism that's both tactile and subtly clicky in a way you can't replicate on a virtual keyboard.
But the company loses major points for the layout used, which clusters modifier keys at the top.
When you use a phone with a physical keyboard, your thumbs naturally gravitate towards the bottom of the device. As such, it makes sense to have modifier keys (like the symbol key, used to access special characters, or the shift key, used to capitalise letters) at the bottom. This was the design used by RIM (and subsequently carried forward by TCL with its own BlackBerry clones).
When positioned at the top, typing feels weirdly unintuitive, almost as though you're playing a game of Twister. Weirdly, the keyboard also positioned the "0" key to the left-hand side of the other numbers, rather than at the bottom, as you'd expect. The space bar is also small – about the same size as two ordinary keys – making it occasionally hard to hit.
You may get used to these in time, but it still doesn't feel especially ergonomic or natural.
On the Titan Pocket, if you want to swipe through a web page or your home screen, you're forced to touch the display. This means your hand moves more than it would with, say, a BlackBerry Key2.
Under the hood
Obviously, given that this is a phone with a physical keyboard, there's less emphasis on sheer pixel pushing. The Unihertz Titan Pocket touts a MediaTek Helio P70 processor. This is hardly a speed demon, and you'll notice brief pauses when opening apps or unlocking the device. Then again, if your expectations are limited to casual emailing and web browsing, this shouldn't be much of a problem.
There's also 6GB LPDDR4x RAM and 128GB UFS 2.1 flash storage. The 4,000mAh battery can last two days between charges, and charging is delivered through a USB-C port.
The original Unihertz Titan came with a USB-C port that was deeply recessed into the phone's chassis. In practice, this meant that only the thinnest cables would work with it.
This time around, the port sits flush with the body, and I've had no issues charging the device with third-party cables. Even the bonkers-thick Volutz cables (designed to be near-indestructible) work just fine.
You also get a 3.5mm headphone jack and an infrared blaster, while a pre-bundled app allows you to use the phone as a remote control. These are features widely considered passé in 2021, but given the context, they don't feel especially out of place.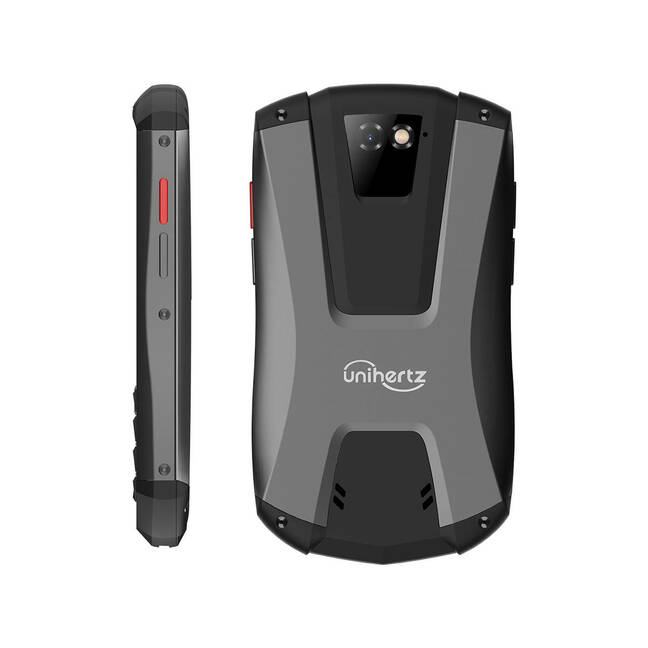 On the optics front, the phone comes with an 8MP front-facing camera, which is perfectly fine for video calls. On the back, there's a solitary 16MP camera accompanied by an LED flash. This works for utilitarian tasks (like scanning barcodes or taking pictures of whiteboards), but won't win you any photography prizes.
There's no 5G or Wi-Fi 6 support. And speaking of wireless networking, Wi-Fi reception was dismally weak, perhaps due to its ruggedised chassis.
Where the iPhone 12 shows a robust signal strength of three out of four bars, the Titan Pocket reported a "poor" signal with just one bar. If you happen to live in a more spacious abode, it's highly likely the Titan Pocket will periodically switch to LTE.
Conclusion
The Unihertz Titan Pocket isn't a mass-market phone, instead catering to the sliver of the phone-buying populace who want a physical keyboard in 2021.
It's functional, but hardly a performance powerhouse. It doesn't have a great camera. It lacks the finesse and ecosystem that made BlackBerry phones a hit with the corporate world in the late 2010s. Wi-Fi reception isn't great.
But those are peripheral to the main selling point of the Titan Pocket: the keyboard. If your brain is so addled with nostalgia, you may overlook these issues/
Still, this wasn't the homage to the BlackBerry Bolds and Curves it could have been. While Unihertz did a good job in choosing a key design and key switch mechanism that feels like the genuine article, the hard work is virtually undone by the decision to use a perplexingly bad layout.
It's just too awkward. Reaching to the top of the keyboard to capitalise a letter or add a period in a web address just feels awkward and clunky. The space bar is too cramped. The positioning of the number pad is unintuitive.
To be clear: You can and will get used to these quirks with extended use. But you shouldn't have to. The phone would have felt more approachable from the get-go had Unihertz stuck to a tried-and-true layout.
At least the price is right. As mentioned, the Unihertz Titan is being flogged on Kickstarter with a super early bird price of $159 (£110), increasing to $179 (£125) and $199 (£140) as units sell.
Remember that crowdfunding campaigns occasionally go awry, as we've previously noted in these pages. While Unihertz has successfully delivered its previous projects, this is no iron-clad guarantee of future success.
If you're not willing to take the risk, wait until the device goes on general sale later down the line. Previous phones from the company are available on Amazon, as well directly from Unihertz's website.
Unihertz isn't the only company aiming to launch a RIM homage in 2021. Last year, Texas startup Onward Mobility acquired the rights to the BlackBerry marque, and said it's planning a 5G-powered revival for later this year. Virtually nothing is known about the promised device, although CEO Peter Franklin exclusively told El Reg it will come with a new clean-sheet keyboard design.
We haven't heard anything since. Although that's not much of a surprise given the global semiconductor shortage. ®