Something for the Weekend, Sir? "Congratulations, Mrs Necessity, you have a child. Have you thought of a name? Really? Hmm, unusual. Is that Slavic?"
Sure enough, a year of lockdowns has produced some amazing inventions resulting from extraordinary feats of human ingenuity. Future generations will learn how this was an exciting time of fast-tracked anti-COVID vaccines, super-sophisticated online video call software and exploding overpriced candles.
Perhaps less impressive is my failure to re-invent myself during this time. While others have been learning to play guitar, read the complete oeuvre of Ursula Le Guin, build their own mirror-disco-ball-geiger-counter and finally nail that Astavakrasana, I am emerging from second (or is it third?) lockdown much the same as I entered it.
This is my own fault, of course. Instead of joining the ranks of government-funded stay-at-homes, I have been lucky enough to discover my modest professional skills are very much in demand – as long as I am prepared to work longer hours for less money. This does not leave much spare time to invent Barista-Capoeira or learn Ayapaneco.
While I miss opportunities to develop skills in obscure Mexican languages and violent coffee-making, others have been busier with their off-time. One of the most bustling fields of cultural interest over the past 18 months or so has been the Silly Celebration Day industry. It's not just Mother's Day and Father's Day we orphans have to evade any more: every bloody day of the year has been assigned a theme to boost publicity for something or another.
I wake up each morning wondering what cultural or environmental topic I should be rejoicing about or commiserating over. Is it Permafrost Awareness Day? Cheese Sandwich Day? Bus Driver's Left Shoe Day? USB Hard Drive Homage Day? Day of the Uninterruptible Five Metre Extension Cable?
Today, I am sure you are aware, is International Tea Day. According to the Tea Advisory Panel – what would I do without a panel giving me tea advice? – tea is an "intergenerational drink" that boosts everything from "cognitive and brain health to protection of heart and gut function". This is a good thing if you want to be less mad, keep your ticker pumping and have a good shit.
One way to give members of the Panel a heart attack would be to make them watch the following instructional video again. Fancy a cuppa? Put the microwave on!
Something that many furloughed staff and WFHers learnt during lockdowns was that their home broadband was better than their office connection. This, possibly more than anything, explains the much-quoted urban myth that vast numbers of workers would rather stay hunched up with a mug of Pantone 12-0804 coloured microwave tea in front of a Zoom call on an obsolete laptop in their kitchen while the dog's barking at the pangolins in the garden than brave the commute back to the office.
According to a OnePoll survey of 2,000 UK adults, as reported by Hyperoptic last week, 40 per cent of office workers wouldn't feel so bad about returning to the office if their business broadband was upgraded. Only a measly 12 per cent of office workers thought the connection at the workplace is better than the provision they have at home.
The more considerate employers have, of course, ensured their WFH minions continue to enjoy that at-office experience from their own kitchens by inflicting various flavours of VPN-and-firewall combos on their remote kit to keep throughput to a crawl. It stands to reason that the best way to keep the wheels of industry spinning is to apply liberal doses of rust.
Here in France, we have been watching a bit of a political storm in an over-sugared tea-mug caused by a young data scientist using his home broadband rather more productively than most.
This is what a citizen dev looks like
Frustrated by the trickle of limited Covid-related information announced by the government at the beginning of the pandemic, 24-year-old Guillaume Rozier developed a website called CovidTracker to collate publicly available data into a free dashboard of live totals and infographics. This was back in March 2020. A few months later, while the French authorities were still struggling to get anybody interested in its own elaborately produced Covid-information app, Rozier's humble CovidTracker site was regularly receiving 10 million visits.
When vaccines began arriving in France at the end of 2020, Rozier launched VaccinTracker – again, for nothing – to show the progress of the country's stuttering vaccination programme. The government, for its part, initially refused to release official national figures, so Rozier drew the data from those being quoted in daily regional newspapers.
Government was eventually persuaded to stop being so sniffy and the Health Minister started sending the actual data directly to Rozier for incorporation into his site. The latter responded by threatening to shut down VaccinTracker with a big fanfare in the press unless the government make the data properly public.
At the beginning of April this year, Rozier launched yet another site with an associated smartphone app called ViteMaDose, which helps citizens locate medical centres in their locality which have vaccination appointment slots available through the country's ubiquitous-but-a-bit-weird Doctolib online booking system. This immediately became popular with the older and at-risk French public, baffled by the circuitous and contradictory official booking methods. It became the Apple AppStore's second-most-downloaded app. It's free.
Rozier rapidly followed this up in May with Chronodose, a system that tracks in real time whenever vaccination centres record that someone didn't arrive for their appointment. If people don't turn up and those allocated vaccine doses are unused by the end of the day, the doses are disposed of. Chronodose lets individuals join a waiting list to fill last-minute missed appointments at their nearby centres, receive an SMS when one suddenly becomes free, nab it and drive there straight away. Chronodose is free.
And when I say these sites and apps are "free", I also mean they were developed at no cost to the public purse, by a 24-year-old data scientist supported by colleagues and fellow developers. Contrast this to the £35m or so that has been estimated to have been spent by the UK government on its NHS Test & Trace app, which is routinely ridiculed for being useless.
The best offer of recompense the French authorities could come up with was to hint that there may be a government job waiting for Rozier one day. No details of this supposed job offer have come to light as yet. No doubt it would be in line with those typically offered to highly educated and hugely talented people of his age: cleaning the parliament toilets, perhaps, or serving in the MPs' canteen.
A groundswell of public opinion has flooded through the media in recent weeks, proposing that Rozier should be awarded France's highest order of merit, the Legion of Honour. Unfortunately, the rules of the award require any recipient to have toiled for at least 20 years in his or her field. Unless Rozier began coding at the age of 4, he's not going to get pinned by President Macron any time soon.
The Health Minister even issued a ludicrous statement to the French press via Twitter to the effect that Rozier will have to wait until he is 36 years old before he gets his Legion d'Honneur, based on the calculation that he probably began studying IT for his BAC when he turned 16.
Until then, Gen-Zed zoomers who survived lockdowns without support, recompense or even the right to get a fucking vaccine jab can make do with the Bras d'Honneur. Well done to us boomers and Gen-Xers in charge, eh? This is who we are.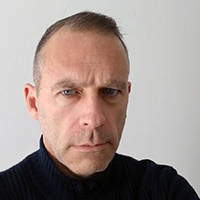 Alistair Dabbs
is a freelance technology tart, juggling tech journalism, training and digital publishing. His second jab is not until next month. The tardiness is his own fault for being lucky enough to be born in good health and foolish enough to keep it that way. More at
Autosave is for Wimps
and
@alidabbs
.