Tesla agrees to follow Beijing's rules and build a data centre in China
Competition for EV makers heats up in Middle Kingdom, where Tesla is the foreigner
Tesla has said it will build a data centre in China where it will house all info generated by local Tesla owners.
In a post to micro-blogging service Weibo that The Reg has shoved through online translation engines, the company said :
We have established a data center in China to achieve data storage localization, and will continue to add more local data centers. All data generated from the sales of vehicles in the Chinese mainland market will be stored in China.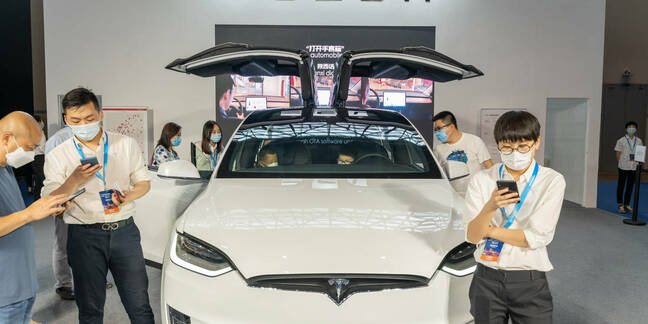 A Tesla model X displayed in China during an auto expo in June 2020
Tesla's decision to do so follows a trend for Beijing to crack down on big tech and privacy. Last week the Cyberspace Administration of China (CAC) ordered 105 apps to stop improperly collecting and using people's personal data as they violated data regulations that went into effect 1 May.
The decision also means Tesla complies with Chinese law that all western companies form a joint venture with a local company to house data in-country, and puts Tesla in line with Microsoft, AWS and Azure – which all use local entities to operate their cloud regions in the area.
Tesla faces stiff competition in the Middle Kingdom, where companies including Xiaomi and Geely Auto Group seek to enter the electric car market.
Xiaomi just posted its annual results today to the tune of 54.7 per cent year-on-year total revenue growth and 163.8 per cent adjusted year-on-year net profit for Q1 2021, signalling they are doing alright thanks, post US sanction removal.
On March 30 of this year, Xiaomi announced [PDF] its plans to establish a Smart EV subsidiary with an initial investment of RMB¥ 10bn (£1.1bn, $1.57bn) and a total investment over 10 years of $10bn (£7.05bn). ®