This article is more than 1 year old
If a kiosk borks when nobody is using it, can it be said to have borked at all?
Fond memories of the before times and Windows Aero at a shuttered McDonald's order point
Bork!Bork!Bork! Today marks a return of an old favourite as the DNS of bork, McDonald's, pops up again to show us how unattended kiosks should be run nowadays.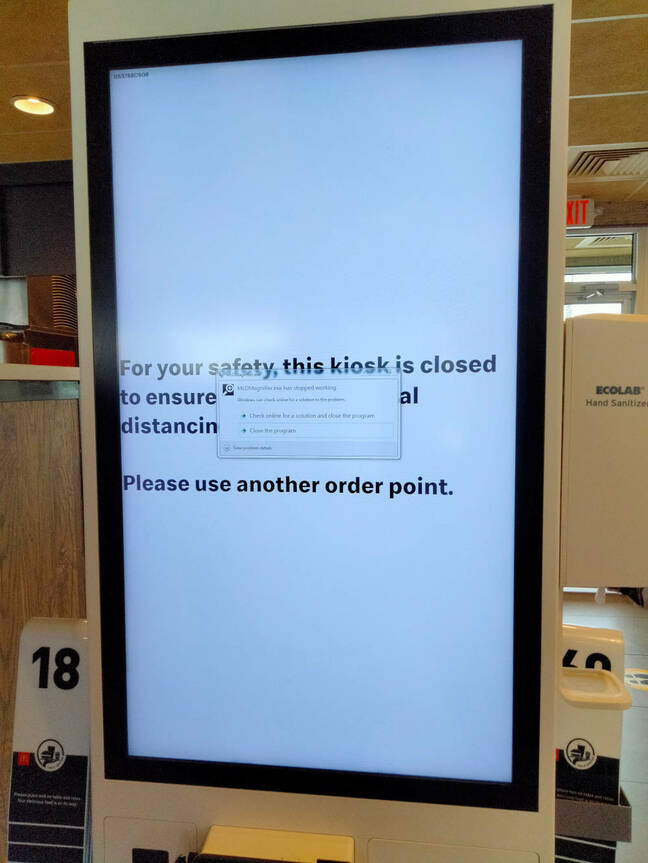 No burger for you
The "safety first" message has been received loud and clear at a Chicago outlet of the grease merchant. Not only is the kiosk closed, likely to enforce social distancing, but a mysterious component called McDMagnifier.exe has stopped working.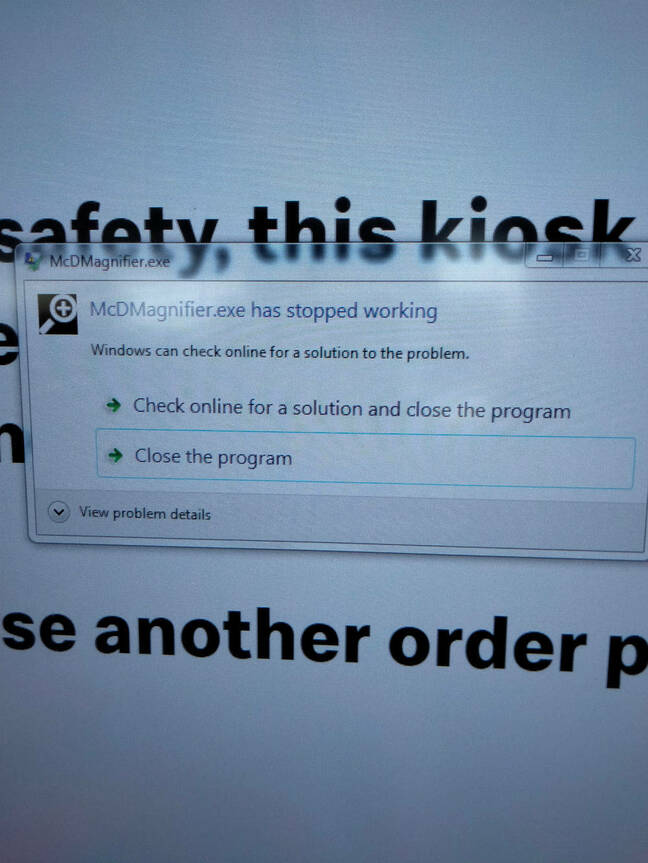 Ready for my close-up
Although a diet that consists entirely of quarter pounders might make one's midriff start to appear magnified, the component is presumably a handy-dandy app that is no longer really required at a closed kiosk. It has therefore responded in the time-honoured way Windows components do and… crashed.
Our brave reader, Anthony, did not report if the dialog responded to a jab with a digit and, to be honest, we can't blame him. Even before the events of 2020, the thought of fondling a public screen and then, without a thorough scrub in between, using the same hands to hold and eat some deep-fried delight would have left us distinctly nauseous.
That said, today's bork is a reminder of less fraught days. If we're not too much mistaken, that's the Windows Aero design language of Windows 7 on display. Support for the operating system was axed in 2020 before the world hit the pause button, although Windows Embedded POSReady 7 will linger on well into the second half of 2021 before payment for Extended Security Updates is required.
These days Microsoft has moved on past Aero and (don't call it Metro) Modern. It now expects customers to gaze at Fluent.
McDMagnifier.exe seems to be somewhat of an unstable beast since we've seen a few examples of it in distress recently. We can but hope that with restrictions hopefully easing, McDonald's will see fit to reactivate its dormant kiosks and perhaps set McDMagnifier.exe free once again. ®