This article is more than 1 year old
India uses controversial portal and API to add vaccination status info to Aarogya Setu contact-tracing app
Millions can't use it, but it may be about to become a de facto travel permit
India has updated its Aarogya Setu contact-tracing app to record users' COVID-19 vaccination status.
A government announcement issued on June 1st explains that fully-vaccinated users "will get a Blue Shield on the home page of Aarogya Setu App with double blue ticks on the Aarogya Setu Logo – 14 days after the second dose."
"This would make easy check of Vaccination Status possible for travel and access to various premises," the announcement says, without offering any information about whether India's government is considering a formal scheme to allow travel or entry to premises based on vaccination status. Use of the app is currently required in some situations, such as commercial air transport.
Securing the ticks and shield requires users to use the same mobile phone number used to register for a jab with India's CoWIN portal.
But that portal, and the API Backing it, have been criticised for excluding the hundreds of millions of Indians who don't have a mobile phone.
The blue tick and shield appear after issuance of a one-time password – a process that has already proven problematic during India's rollout of a national TXT-spam-busting service, when messages containing passwords were mistakenly identified as spam by carriers that had not prepared their networks for the flood of messages. Among the apps that struggled as TXTs were blocked during that incident was Aarogya Setu.
Happily, Aarogya Setu was released in versions that run on some of India's more popular feature phones. Users of those devices, and smartphones, will see the following change once their fully-vaccinate status is verified. ®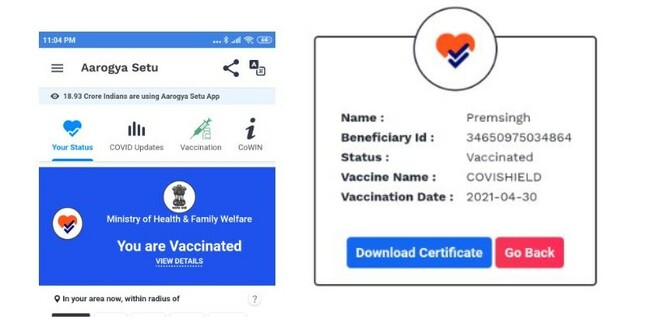 Click to enlarge