This article is more than 1 year old
FireEye sold to McAfee's new owners for $1.2bn as Mandiant split into standalone firm again
Another big name buyout by STG
FireEye has been sold for $1.2bn to the same American private equity fund that bought McAfee's enterprise security business, severing it from infosec stablemate Mandiant.
The sale to Symphony Technology Group (STG) will see threat intel and incident response business Mandiant return to the market as a standalone operation in Q4 this year, FireEye said in a statement.
"We believe this separation will unlock our high-growth Mandiant Solutions business and allow both organizations to better serve customers," added FireEye chief exec Kevin Mandia.
FireEye's product security biz is being transferred to STG, where it will sit alongside McAfee's enterprise security division, which STG bought for $4bn in March.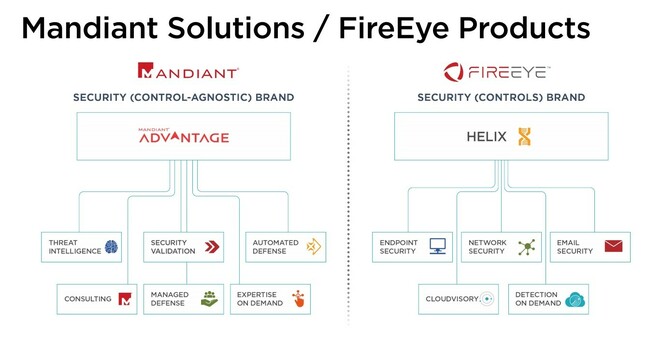 Slide shown to investors summarising FireEye and Mandiant's product lines. (Click to enlarge)
"After closing," continued Mandia, "we will be able to concentrate exclusively on scaling our intelligence and frontline expertise through the Mandiant Advantage platform, while the FireEye Products business will be able to prioritize investment on its cloud-first security product portfolio."
About $500m in FireEye shares will also be bought back by its directors. According to an investor slide deck (PDF), Mandiant grew 23 per cent between 2018 and 2020, booking $227m in revenue – and a healthy 55 per cent gross margin.
FireEye is one of the biggest firms in the global infosec market and is one of the US government's go-to consultancies. This proved to be a drawback last year when Russian spies infiltrated the firm via its supplier SolarWinds, causing widespread headaches across the US public sector.
More recently FireEye was involved in the US Colonial Pipeline ransomware incident, which was partly resolved when the pipeline company paid a $5m ransom to obtain a decryptor; not quite the sequence of events described in a fawning Reuters interview with Mandia about the buyout.
"We are extremely impressed by the FireEye Products business and the mission critical role it plays for its customers," burbled William Chisholm, STG's managing partner. "We believe that there is enormous untapped opportunity for the business that we are excited to crystallize by leveraging our significant security software sector experience and our market leading carve-out expertise."
FireEye investors were informed in a conference call yesterday that cyber security spending is expected to reach 3.5 per cent of global GDP by 2030. Clearly STG is betting big on nervous enterprises liberally splashing the cash as time goes by. ®