This article is more than 1 year old
Huawei names first tablets, phones to run its Android-in-disguise HarmonyOS 2
Hello, my name is Mr Snrub, and I come from, uh ... someplace far away
Analysis Huawei on Wednesday introduced its first tablets and smartphones running its HarmonyOS 2 software – and said 100 or so other devices will be able to upgrade to the totally-not-but-really-is-Android OS.
The Chinese tech kit titan selected the MatePad Pro as its flagship launch device for the operating system. This 12.6-inch tablet computer targets the market occupied by premium gear like the iPad Pro and Samsung's Galaxy Tab S7. Huawei angled the MatePad Pro toward creative types, touting the color accuracy and high contrast ratio of the 2560 x 1600, 240 PPI OLED display, and suggesting it could serve as a second monitor for professional photographers.
Under the hood, the embattled electronics giant has shoved a 10,050mAh battery which purportedly allows for 14-hours of continuous video playback, plus 5G and Wi-Fi 6 support, and a HiSilicon Kirin 9000E processor. Released in late 2020, and expected to feature in the long-awaited P50 flagship smartphone, this system-on-chip – sporting an Arm Cortex-A77 CPU core at 3.13GHz, three Cortex-A77s at 2.54GHz, and four Cortex-A55s at 2.05GHz – was built using TSMC's 5nm process and includes a 22-core Arm Mali-G78 GPU, an AI accelerator, and Huawei's Balong 5000 modem.
The MatePro has 128GB or 256GB of flash storage and 8GB of RAM, and various interfaces – and no 3.5mm headphone jack.
The premier tablet was accompanied by two smaller, and thus cheaper, devices: the 10.8-inch MatePad Pro and the 10.95-inch MatePad 11. Although similarly running HarmonyOS 2.0, these use Qualcomm's Snapdragon 870 and 865 system-on-chips respectively.
Growing Harmony?
At a launch event, Huawei said new versions of its Mate 40 series and Mate X2 smartphones will also run HarmonyOS 2. It added that "roughly 100 other Huawei devices – including both smartphones and tablets – will be upgraded to run on HarmonyOS 2, giving consumers access to a seamless intelligent experience across multiple devices in all different types of scenarios."
And let's be real for a moment: HarmonyOS 2 is essentially the open-source core of Android, with a Linux kernel, covered in Huawei's special sauce. The manufacturing giant is not keen on publicizing that though it's pretty obvious from a developer point of view, a deep analysis of the software, and that it even includes Android Q aka version 10's Easter egg.
HarmonyOS 2, aka Hongmeng, is not a written-from-scratch, ground-up operating system. There's the HarmonyOS that is a microkernel OS based on Huawei's LiteOS for Internet-of-Things devices, which is suitable for wearables, TVs, and small devices. But HarmonyOS 2 for smartphones and tablets? It's definitely Huawei's flavor of Android.
And while Huawei was eager to tout HarmonyOS 2's compatibility with Android apps – no surprise there – it also pointed out a few divergences. At the bottom of the home screen sits an app tray that reminds us of the macOS and iPadOS dock. There's also support for handwriting recognition using Huawei's second-generation M-Pencil, similar to that offered since the launch of iPad OS 14, and previously with the ill-fated Apple Newton PDA and similar yesteryear gear.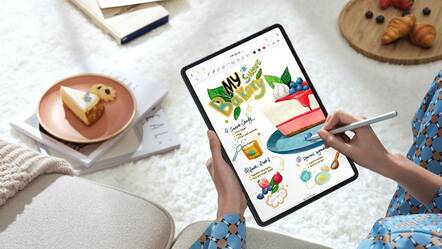 Get a grip ... The HuaweiPencil and MatePad Pro 12.6
Huawei claimed its operating system offers better multitasking support than the Android that other people ship, keeping apps running in the background without fully closing them. It also said read-write speeds to the internal storage would remain constant over time regardless of the amount of space used.
Additionally, Huawei took the opportunity to introduce a tablet keyboard. Dubbed the Smart Magnetic Keyboard, this clips to the bottom of the fondleslab, and purportedly offers key travel of 1.3mm. That's slightly more than that offered by the Apple Magic Keyboard used to type this article, which has 1.2mm of travel.
On the wearable front, Huawei has shoved HarmonyOS into its Huawei Watch 3 series devices. The biz was eager to tout the watch's phone integrations, allowing it to make and receive calls, stream music, and use a handset's mobile data plan, and boasted about the battery life, which apparently extends to five days for the Pro version and three days for the entry-level variant of the wristputer.
These are not, strictly speaking, the first devices to carry HarmonyOS. In 2019, Huawei's erstwhile sub-brand Honor introduced a smart TV running the software. But that wasn't something Huawei was keen to stress.
It's worth noting that though the Middle Kingdom corp ran into US-China trade-war-related difficulties bundling the proprietary Google Mobile Systems (GMS) software – which includes Gmail and the Google Play store – it is able to use Google's Android Open Source Project (AOSP) to craft a base OS, cough.
The impact of this embargo was most keenly felt outside mainland China, where apps like Gmail and Google Play are seen by many to be essential and were absent from certain Huawei devices. This sudden loss of competitiveness, as well as its ongoing semiconductor supply-chain woes, resulted in its shipment numbers plunging precipitously.
Pivot, pivot!
Ben Wood, chief analyst at CCS Insight, said this week's launch is indicative of Huawei moving beyond the handset sphere, which had previously served as the bread-and-butter of its Consumer Business Group. That's handy because it means Huawei can ship equipment that can get by on Wi-Fi, and not have to include 5G components where sanctions prevent it from doing so.
"Huawei's announcements reflect its need to pivot away from a reliance on smartphones to other hardware categories such as tablets, smart speakers, headphones, wearables, displays and more," he said. "Many of these devices are able to use Wi-Fi rather than a cellular connection making it easier to get around the sanctions related to 5G chips."
Some of Huawei's most recent launches have focused on traditional computing devices, including a desktop, and monitors, with the hardware maker announcing the international launch of two displays earlier this week.
Wood also noted HarmonyOS appears to be trying to mirror Apple's software in terms of trying to present a unified OS platform. WatchOS, tvOS, iOS, iPadOS, and macOS all share an ancestry, and are expected to interoperate with little or no friction. Huawei wants people to think the same of HarmonyOS, whether there's LiteOS or Android running underneath.
"HarmonyOS is designed to provide the glue between a growing array of connected devices that Huawei is targeting," he said. "Huawei will be hoping that it can follow Apple's lead, by having a single software platform that extends in all directions, providing a seamless experience to customers that buy into its ecosystem of products."
But, unlike Apple, Huawei aims to license HarmonyOS to other vendors. There's some wisdom to this: Huawei's licensing model is impervious to its supply-chain squeezes, and will help the company grow its overall ecosystem, including its own app and content stores. HarmonyOS 2 ships with Huawei's AppGallery, from which one can fetch and install Android applications.
However, as Microsoft's experience with Windows Phone showed, tempting rivals from the safe bet that is Android and Google Play will undoubtedly prove to be an uphill challenge.
Huawei did not disclose when exactly its inaugural HarmonyOS devices will see a UK, US, or Europe-wide release. Predictably, Huawei plans to launch the hardware at least in China, where the strength of its brand and a sense of patriotism will help drive sales.
A question mark continues to hang over whether HarmonyOS can thrive in other parts of the world, where iOS and Android remain firmly entrenched, and folks can use Apple and Google's software stores to get the programs and entertainment they need. Although Huawei's OS can run Android apps, this is no guarantee of success.
BlackBerry 10, for example, similarly offered Android compatibility, and largely failed to revive the fortunes of the ailing cellphone manufacturer, which later departed the handset market entirely. ®