Snakes on a Plane meets The Simpsons as airline creates 'whacker' to scare reptiles away from parked A380s
It's actually just a stick, but maintenance staff love 'em
Australian airline QANTAS has developed a piece of technology dubbed a "wheel whacker" to help stop snakes and scorpions boarding planes it has parked due to the COVID-19 pandemic.
Australia's borders are currently all-but closed and QANTAS has ceased international flights other than government-run repatriation flights that bring citizens home from viral hotspots. The airline therefore parked its fleet of Airbus A380s at the Southern California Logistics Airport in Victorville, a location where low humidity makes for an ideal aircraft storage location.
QANTAS expects to fly its A380s again one day, so continues to maintain the craft.
Which is where the "wheel whackers" come in. As explained in a post to the company blog, "highly venomous Mojave rattlesnakes and scorpions … are prone to setting up camp around the wheel wells and tyres of slumbering aircraft."
Qantas manager for engineering in Los Angeles, Tim Heywood, said that he and his team frequently encounter snakes and scorpions when they visit the giant planes, as the creatures "love to curl up around the warm rubber tyres and in the aircraft wheels and brakes."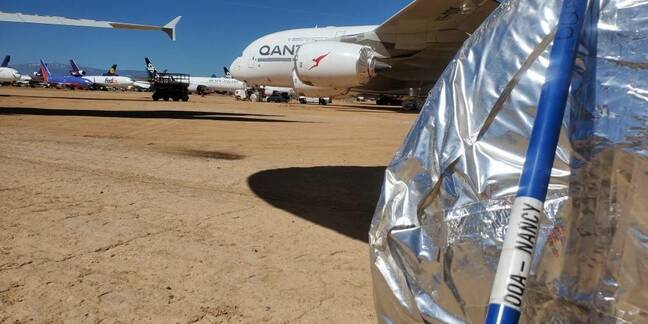 A Qantas A380 wheel whacker. Click to enlarge
"The first thing we do before we unwrap and start any ground inspections of the landing gear in particular is to walk around the aircraft stomping our feet and tapping the wheels with a wheel whacker to wake up and scare off the snakes. That's about making sure no harm comes to our engineers or the snakes."
"Only then do we carefully approach each wheel and unwrap them before performing our pressure checks and visual inspections."
Heywood said he and his team have spotted a few rattlers and stingers, "but the wheel whacker does its job, and they scuttle off."
For readers who hoped the wheel whacker was a masterpiece of aerospace engineering and composed of exotic materials, we have bad news: the whackers are just broom handles. Each whacker is, however, labelled with the name of the A380 to which it is dedicated.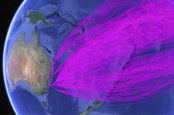 Reg hack survives world's longest commercial flight
READ MORE
QANTAS is not the only aerospace concern that has trouble with animals. Your correspondent came across these old Tweet regarding NASA's issues with animals.
2/ Another time there was a gator in the irrigation ditch behind our building. The animal whisperer was standing waist-deep in the dark water, throwing a big hook into the water and dragging it up, trying to grab the gator. I never saw if he got it or not. I didn't want his job.

— Dr. Phil Metzger (@DrPhiltill) March 27, 2020
And who could forget the wasps that nearly crashed two planes in Brisbane, Australia? ®