Thirty-two years ago, on June 4, 1989, Chinese troops killed and arrested thousands of pro-democracy protesters in Beijing's Tiananmen Square, putting an end to demonstrations that began that April.
Microsoft's Bing has no memory of an iconic moment from that time: there's no record of Tank Man – the lone protester who faced down a column of tanks – in Bing's image search index.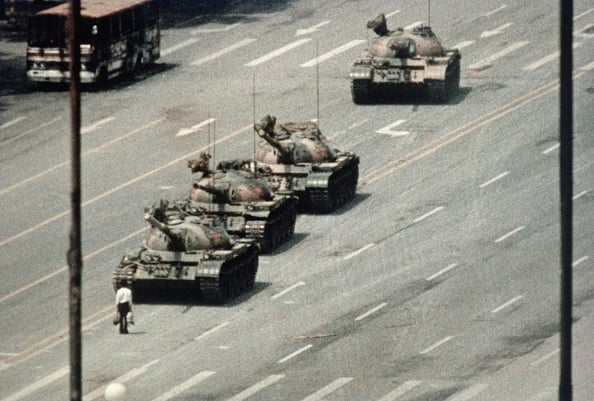 The Tank Man ... A Beijing demonstrator blocks the path of an armored convoy along the Avenue of Eternal Peace near Tiananmen Square in June 1989
Source: Getty
At the time this article was written today, searching for "tank man" in Bing Images (Safe Search off, with or without quotes) here in the United States of America returned this response:
There are no results for tank man
Check your spelling or try different keywords.
"This is due to an accidental human error and we are actively working to resolve this," a Microsoft spokesperson told The Register.
Curiously DuckDuckGo Images (Safe Search off), which relies on Bing for its search index, also had no memory of the event when asked about "tank man."
Nor did Ecosia's Image search, another Bing-powered search service that promises to plant trees and proclaims, "We stand for a better internet." Well, not today:
Yikes! We didn't find any results for "tank man"
Yahoo Search and AOL Search, both of which rely on Microsoft's Bing, had similar memory problems.
While the situation is the same for China's Baidu search engine, as might be expected, the query "tank man" does return the famous scene using image search with Google and Yandex.
One of the most widely recognized photographs of the Tank Man was taken on June 5, 1989 by Associated Press photographer Jeff Widener from a balcony overlooking Tiananmen Square. A 1990 Pulitzer Prize Finalist in the category Spot News Photography, it became one of the most memorable news photos of the 20th Century.
When the image first went out over the wires, the AP caption read:
BRAVE MAN: A Chinese man stands in front of tanks advancing east down Changan Blvd. Monday morning in front of the Beijing Hotel stopping their advance as he cried and pleaded for an end to the killing.
The identity of the man and his fate remain uncertain, except presumably to Chinese authorities, his family, and friends. British tabloid the Sunday Express identified him as "Wang Weilin" (王维林), a 19-year-old student. While that has not been corroborated, the name has been blocked during Tiananmen Square-related censorship efforts.
Within China, the image appears to be largely unknown, thanks to government censorship. On the 30th anniversary of the Tiananmen Square killings, a BBC news crew showed people in China the image, stored on a laptop because it's not readily available online there, and asked whether they'd seen it before. About 80 per cent of those asked said they hadn't seen it, though if some of these individuals had, they might be disinclined to say so for fear of consequences.
Chinese authorities have traditionally stepped up censorship whenever the anniversary of June 4, 1989 rolls around, blocking words like "tank" (坦克) on social media platforms. In Hong Kong, police arrested pro-democracy activist Chow Hang Tung, who runs the organization that holds vigils in remembrance of the Tienanmen Square protests.
Recently, Variety reported that users of social media service Douban received notice that their accounts would be muted – ie, no posts – for four days, starting June 2, 2021. The report also said that the online game World of Tanks announced on its Weibo account that its chat service would be down for maintenance until June 8.
The Register asked DuckDuckGo for its side of this story. We've not heard back.
Just as this article was about to be published, we saw that at least one photo of the Tank Man can be seen in Bing search results again albeit not very prominently.
In a statement on Thursday commemorating the June 4th, 1989 Tiananmen Square protests, US Secretary of State Antony Blinken said:
"The courage of the brave individuals who stood shoulder-to-shoulder on June 4 reminds us that we must never stop seeking transparency on the events of that day, including a full accounting of all those killed, detained, or missing." ®
Similar topics