This article is more than 1 year old
Baby Space Shuttle biz chases dreams at Spaceport Cornwall
Sierra Nevada Corporation eyes a landing site in the UK
Sierra Nevada Corporation has signed a Memorandum of Understanding with Spaceport Cornwall aimed at landing its Dream Chaser spacecraft on a strip in the southwest county of England.
While the MoU is all about future collaboration opportunities, John Roth, veep for business development at Sierra Space, told The Register, "Cornwall is our first international landing site," although right now the company was focused primarily on fulfilling its NASA contract to shift payload to and from the International Space Station (ISS).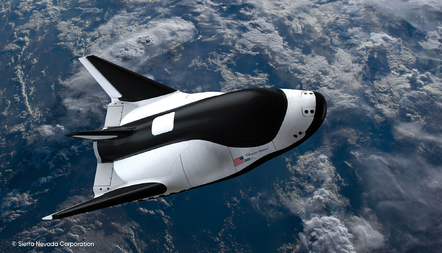 Sierra Nevada Corp's Dream Chaser
Sierra Nevada Corporation's (SNC) Dream Chaser has had a hard time of it up until NASA's contract award. Unlike the capsule-based approach of Boeing and SpaceX, the Dream Chaser is a winged spacecraft, able to return from orbit to a runway. NASA rejected it for crewed operations.
SNC did, however, succeed when it came to a purely cargo version.
The first launch, from the US, is due to take place next year. The Dream Chaser will then return from the ISS to a runway landing at the Shuttle Landing Facility at Kennedy Space Center.
Thanks to its ability to land on a runway, returning payloads can be extracted swiftly. Customers on the UK side of the Atlantic can therefore get hold of their experiments should the Dream Chaser touch down on the lengthy Cornwall landing strip.
Roth told us that if all goes well, such a landing might take place in the 2025 time frame depending on the mission.
There are no plans to launch the Dream Chaser from UK soil. Indeed, domestic vertical launchers are focused more on the small satellite market and while Virgin Orbit has been making noises about launching from Cornwall, its Boeing 747-based platform is strictly a horizontal affair for considerably smaller payloads than a Dream Chaser.
Aside from the long runway, Roth explained that the company did not require a tremendous amount of equipment to land at the spaceport. A trailer to tow Dream Chaser off the landing strip, a hangar, and some logistics to prepare the spacecraft for shipping back to the US following the unloading of the payload are all that is needed.
Sierra Space, an offshoot of Sierra Nevada Corporation, has plans for the Dream Chaser regardless of the eventual retirement date of the ISS that involve servicing its own space station. Both European and Japanese rockets are also being considered as launchers for the winged spacecraft following the completion of the first six missions. ®