This article is more than 1 year old
If HAL did digital signage. I know I've made some very poor decisions recently, but I can give you my complete assurance that...
My God! It's full of Bork!
Bork!Bork!Bork! A black oblong of purest bork glares balefully over shoppers in Plymouth, southwest England. An echo from an alternative future or just big-screen borkage?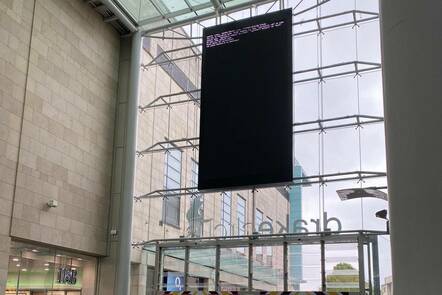 It may be more than 20 years since the events of Arthur C Clarke's 2001 were supposed to have taken place, but the Moon remains a challenge for humans, let alone Jupiter.
Still, we're heartened to see that rogue computers continue to trouble humanity even if only at the level of confusing shoppers rather than murdering astronauts (apologies for the spoiler if you've yet to read the book or sit through Kubrick's sci-fi film.)
Dave Bowman's last words heard by Mission Control might have been "My God! It's full of stars!" but for the monolith suspended over the exit of Plymouth's Drake Circus shopping centre it's, er, full of bork.
We last saw this type of error adorning a Pi-powered screen nestled in Ikea foliage, and we're heartened to see alternatives to the near ubiquity of Windows digital signage demonstrating an ability to fall as well.
Sadly, unlike the Ikea experience, we have less to go on with regard to what has resulted in a gloomy black rectangle where there might otherwise be cheery digital messaging. Some tippy tapping might result in a clue from the logs, but this hack's suspicion would be something amiss with the file system.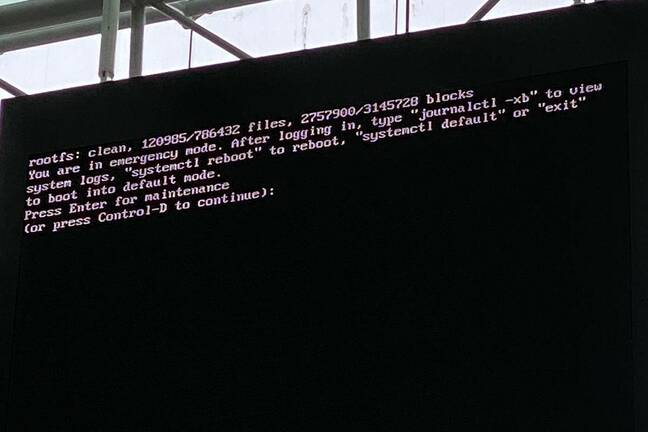 Click to enlarge
Sadly the snapper, Yestin, did not provide imagery showing the brave admin investigating the borkage in full view of onlookers. With luck, somebody had the presence of mind to disconnect the video feed.
We'll leave the speculation over the flavour of operating system to the comments section (although this writer remembers dealing with this error after making Ubuntu very poorly in recent times.)
It is, however, a reminder that despite of the assertions of stability and reliability by Penguistas, all operating systems are equal in the eyes of bork. ®