This article is more than 1 year old
Mark it in your diaries: 14 October 2025 is the end of Windows 10
Wasn't it to be the 'last version of Windows'? Maybe not...
Microsoft has updated its product lifecycle documentation to state that Windows 10 Home and Pro will be retired on 14 October 2025.
The statement is likely linked to the forthcoming event on 24 June where Microsoft promises to unveil what's next for Windows. Note that it is the future of Windows, not of Windows 10, that is the subject.
What happened, then, to the idea that Windows 10 would be the last version, but constantly kept up to date with incremental updates?
Windows 10 was released on 29 July 2015. Terry Myerson, Windows boss at the time, said in January 2015: "We think of Windows as a Service... and just like any internet service, the idea of asking 'What version are you on?' will cease to make sense."
There were several ideas behind the "Windows as a service" concept. One was that Microsoft would otherwise have more of a struggle competing with other operating systems. On the old major release cycle there were three years or more between versions, such as Windows Vista (2006), Windows 7 (2009) and Windows 8 (2012).
Breaking news
Another idea was to improve the platform for developers. The more different versions there are in active use, the harder it is for developers, who have to either write for the oldest version while ensuring compatibility with the newest, or give up a potential slice of their market.
With Windows 10, many users upgrade automatically, increasing the number on the latest version. That said, there was a downside, with automatic upgrades leading to the possibility of unexpected breaking changes.
In practice, Myerson's idea that the version of Windows would "cease to make sense" was not achievable or even, perhaps, sensible. There have been regular feature (and version) upgrades for Windows 10, delivered every six months. Businesses in search of more control also have an option for the Long-Term Servicing Channel, which receives feature upgrades "every two to three years," according to the docs – just like the old Windows release cycle. In reality Windows has always had a version number, and anyone can type winver at the command prompt to see it.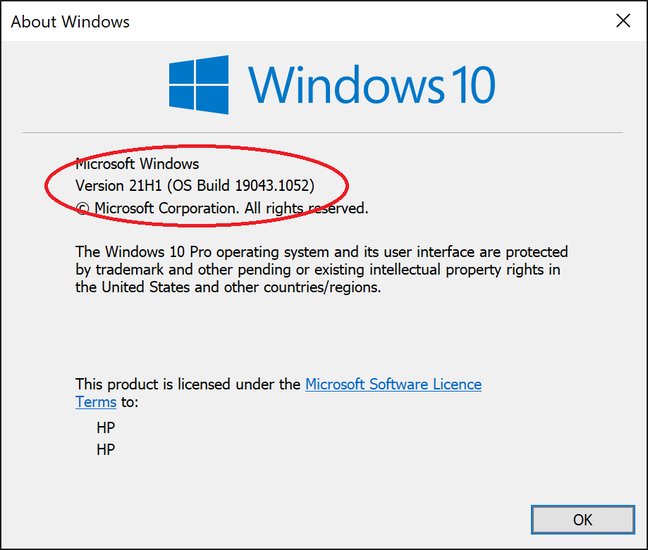 Winver shows the version of Windows, in this case 21H1, first half 2021 or 19043.1052
There was another aspect to this, though. For many users Windows 7 or Windows 8 was the last version they paid for, if they paid for a Windows upgrade at all. Myerson's original statement was that Windows 10 would be a free upgrade for customers running Windows 7 or higher, for one year after launch, and that "we will continue to keep it current for the supported lifetime of the device – at no cost."
Despite this, Windows 10 has never been free, and Windows licensing remains an important source of revenue for Microsoft, particularly for the enterprise versions.
Did Microsoft ever say that Windows 10 would be the last version? There was a comment made by developer evangelist Jerry Nixon in this session at the Ignite 2015 event. "Right now we're releasing Windows 10, and because Windows 10 is the last version of Windows, we're all still working on Windows 10," he said.
Microsoft never committed to keeping the Windows 10 branding indefinitely but did promise to keep Windows current once licensed to a device, for its "supported lifetime", at no cost. The latest statement appears to confirm that the Windows 10 brand is going away, but whatever Windows vNext turns out to be called, users will be trusting that the no-cost commitment remains. ®