This article is more than 1 year old
Orbex is creeping towards orbit from a UK launchpad, but first there are courts, birds, and billionaires to overcome
Sutherland Spaceport: A Prime location?
Interview British rocketeeer Orbex has spent the best part of the last half decade or so moving towards the goal of a first commercial orbital launch from home soil. While others have shown off engine firings and sub-orbital lobs, Orbex is aiming for orbit with its Prime rocket.
In an industry where dates tend to be forever moving deeper into the future, Chris Larmour, CEO at Forres-based Orbex is refreshingly blunt and suggests rolling a dice for picking that first launch date.
"We're working towards the end of 2022," he tells us. However, he also remarks: "There's always something either internally or externally, that impacts the ability to meet those dates, whether it's, you know, the spaceport is delayed, or the regulations aren't ready yet, or we've got a technical issue to be solved…"
Regulations-wise, the UK appears well on the way to licensing launches. Orbex seems in good shape from a technical perspective and recently signed off on a test stand at the former RAF Kinloss base to perform a full wet dress rehearsal of the first stage of its Prime rocket.
Getting a functioning spaceport capable of supporting vertical launches is, however, somewhat out of Orbex's hands.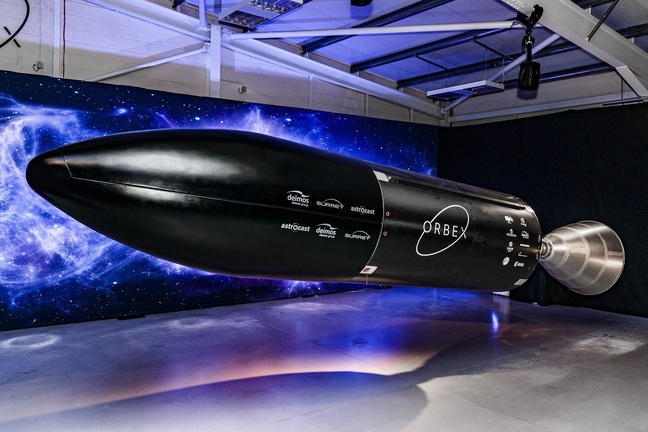 Orbex Stage 2 rocket, Prime
The company plans to launch from Sutherland Spaceport, the construction of which was signed off last year. However, a judicial review into the granting of permission by the Highland Council does have the potential to throw a spanner into the works. A judge is currently pondering submissions made by the wildlife charity RSPB and objections from the company of billionaire landownder Anders Povlsen.
Povlsen has invested a substantial sum in another space port in Shetland.
Orbex would very much like to launch from Sutherland, and Larmour laughs: "I got lucky in finding the only billionaire on the planet who doesn't want to build a space rocket!"
Larmour anticipates a year being required to construct the facilities, meaning that the legal wrangling will need to be wrapped up soon if that end-of-2022 date is to be protected. If not, there are other options. "There are other spaceports proceeding," he explains. "There's already one in existence in French Guiana. We could launch from Norway, which is moving very rapidly. They've already broken ground. And they've got full financing and licencing in place already."
Fellow Scotland-based rocketeers Skyrora recently launched a suborbital rocket from Iceland.
As for something sub-orbital from Orbex ahead of the main event, Larmour says: "This team has already launched six suborbital rockets. We're building an orbital rocket, which is a very different game."
With an orbital rocket, he says, "the complexity of the task is huge. And there are a lot of people who have a say in this process: authorities and stakeholders and shareholders, customers, funding agencies, space agencies, nation states, ministers, you know, there's a lot of people who have a viewpoint and opinion, even control over these processes."
That said, Larmour reckons that Orbex is quite some way along the learning curve, and though it will not have reusability system for the first stage of the Prime rocket, like Spacex, or the parachute of Rocket Lab in an effort to minimise the payload impact, the choice of bio-propane is expected to result in a considerable drop in emissions during launch.
The company also has plans to expand its Forres manufacturing base, and scale up to 30 or 40 vehicles a year. It has a year's worth of carbon fibre on site for manufacturing processes and so is relatively well placed to ride out supply-chain hiccups arising from Brexit and the ongoing pandemic.
But there is still that first launch to get out of the way before thoughts can turn to getting anywhere near the monthly cadence hoped from Sutherland. Larmour tells us it takes three weeks from vehicle arrival at the spaceport before launch, with refurbishment of the pad taking a week after that.
Although the company has a list of commercial contracts lined up for its launcher ("We're about a quarter of the cost of a rideshare"), it has no plans for anything bigger than the Prime and its 10-180kg payload range. "Our core plan," Larmour says, "is to build a small launcher, and get that business running really sweetly."
And a big rocket? "There's no PowerPoint that exists with that that on it," he adds.
And, as many space fans are all too aware, PowerPoint rockets tend to be a little easier than the real thing. ®