This article is more than 1 year old
Up to £80m on the table in University of Nottingham's search for service provider to lace together IT support
Institution continues its digital makeover
The University of Nottingham has begun a hunt for an IT services vendor, wafting between £50m and £80m to tempt them to the table.
In an early tender document, the 45,500-student institution laid it on fairly thick. It said it "recognises the need for agile, reliable and robust technology services. They underpin everything the University does from delivering excellent, digitally enabled education, research, and professional services, to providing an exemplar user experience both on and off campus."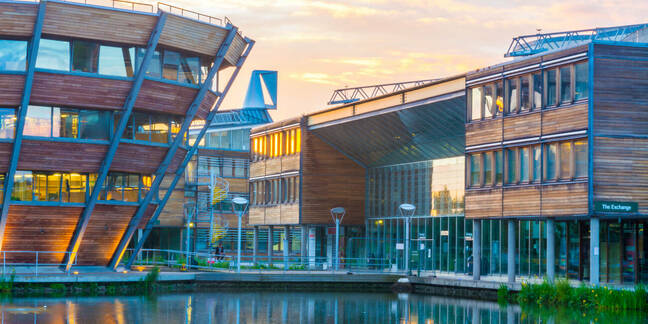 The Jubilee Campus, Nottingham University
The prior information notice said the university would procure in a single lot and that a contract would be awarded in calendar Q4 2021.
"The University of Nottingham is seeking to engage a Digital Partner on a framework agreement to provide strategic advice and guidance and support the delivery and modernisation of its foundational IT services across the University," the tender document said.
It also listed a range of services the university is looking for help with, including networks services, print, integration and "potential future services."
The point of the notice is to give potential bidders time to prepare before a contract notice is issued on 9 July. It estimated the total contract value to be in the range of £25m to £80m.
A source close to the Uni told us: "Uni of Nottingham tendering for a 'digital partner', or as we on the ground are calling it, 'outsourcing'. Because this always goes well.."
It's not the first bit of tendering the academic institution has embarked on this year. In January, it launched a procurement process for a new HR and finance system in a deal which could be worth £35m, barely a year after updating its current provider's system.
In a project dubbed "Digital Core", the university said it was seeking a "step change in the way it manages its human and financial resources, with knock-on benefits for teaching and research," according to a tender document.
The new SaaS system was set to replace its finance system, based on Unit4's Business World, the successor to Agresso. As per a university blog, the finance system got a big upgrade on 1 July 2019.
The changes to the finance system are part of a larger shakeup. The university's current HR and payroll system is ResourceLink, provided by the vendor Zellis – for the moment at least.
"ResourceLink, along with the university's e-procurement and e-catalogue systems, are in scope for potential replacement," a university spokesperson said at the time.
In a report on the financial year ending 31 July 2020, it said it had an annual turnover of in excess of £710m up from £701m the year before as well as generating "an annual surplus that is reinvested every year". Nottingham gets its income from student fees, government grants and research grants, alumni fundraising as well as investments and business activities such as "spin-out" companies. ®