This article is more than 1 year old
What a time to be alive: Cisco now offering 5G routers to ride along in cars
Switchzilla adds 5G options to edge routers and gateways, bets you'd rather buy its kit than run multiple networks
Cisco has announced industrial routers and internet gateways with baked in 5G as it tries to extend the enterprise network and SD-WAN to the edge.
Three new modular routers run Cisco IOS XE and have built-in edge compute capabilities.
The Catalyst IR1800 Rugged Series is for mobile and remote use cases, like the tricked out vehicles used by first responders or out on oil and gas pipelines. The shock and vibration resistant devices offer dead reckoning GPS, LTE, private LTE, 5G, Wi-Fi, CBRS, SSD, and advanced global navigation satellite system. FirstNet certification is in progress.
The IR1800 series of heavy duty routers offer a slot for one or more cellular modems, plus PoE/PoE+, ADR GNSS slot, SSD slot, four digital I/O ports and one RS232/485 combo port.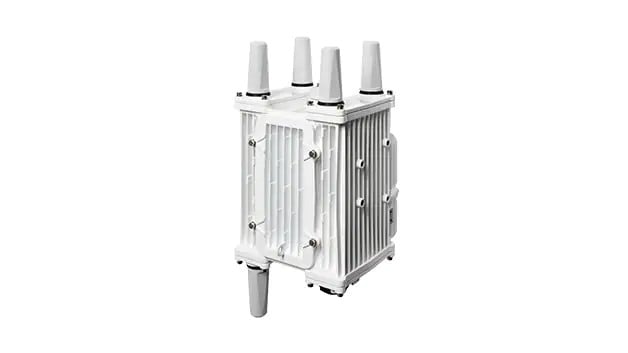 Catalyst IR8100 Heavy Duty Series, Click to enlarge
The two models in the Catalyst IR8100 Heavy Duty Series are modular, made for outdoors and operates under extreme temperatures. The IP67-rated devices are undeterred by dust or water and include public and private LTE, 5G, Wi-SUN, and promise easy upgrades thanks to replaceable internals.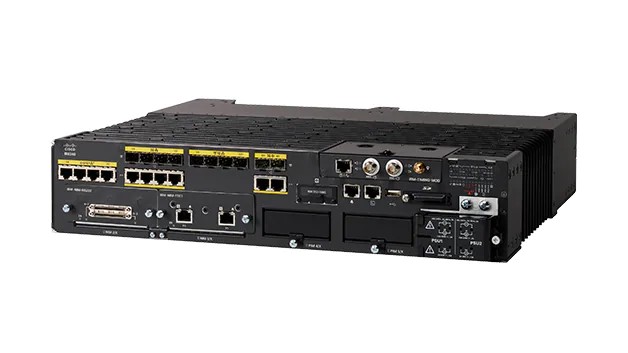 Catalyst IR8300 Rugged Series Router, Click to enlarge
The Catalyst IR8300 Rugged Series Router is designed for industrial environments with loads of in-house security products: Cisco TrustSec, Unified Threat Defense, and Cisco® Cyber Vision. The tech company is boasting that the IR8300 is their first product to have both Cisco QuantumFlow and Unified Access Data Plane Technologies. It's also equipped with Cisco Edge Intelligence, 5G, and SD-WAN.
The new IOT Gateway series is for use indoor and outdoor and comes with an Cisco's own IoT Operations Dashboard.
Cisco's play here is providing devices that use its familiar software, but capable of connecting over 5G. A reminder: 5G is designed to perform better in odd places than predecessor standards. Cisco is therefore making sure its networks can reach anywhere 5G can go, which helps it to stake a claim on the edge by showing customers they don't need to build special purpose networks that create complexity.
"As organizations accelerate digitization, they need a way to simplify management and security across the network and edge devices," says Cisco's announcement of the new range, which is already on sale. ®